NSF Meets with Former Senior Executive of the CIA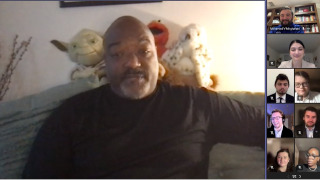 Mr. Blocker Meets with NSF Students
On February 21st, 2023, the Seton Hall National Security Fellowship (NSF) had the honor of welcoming guest speaker Mr. Darrell Blocker, former Chief of the Central Intelligence Agency (CIA) operational training facility, Deputy Director of the Counterterrorism Center, Chief of Africa Division and Chief of Station. Upon his retirement after 28 years as a CIA operative, Mr. Blocker received the CIA's Distinguished Career Intelligence Medal and was the top senior African-American officer in the CIA's Clandestine Service. During the Trump - Biden presidential transition, Mr. Blocker was under consideration to become director of the CIA. Mr. Blocker remains involved in international affairs through his role as the Chief Operating Officer for the multinational security firm, MOSAIC, and as an on-air National Security Analyst for ABC news. Mr. Blocker joined the NSF group virtually from Los Angeles, California, to discuss life in the CIA, lessons he learned during his career, and advice on finding success in the world of international relations.
Mr. Blocker began by exploring life in the CIA. A career in the CIA requires an understanding of the world in a broad sense, and Mr. Blocker encouraged the students to consider that the world is more than just within their zip code. He spoke of understanding oneself and others to achieve success in the CIA or any pursuit one has chosen. Regarding success in the agency, Mr. Blocker had some powerful advice for the students. "Know your ethics, know your strengths. Don't let go of them, no matter what." Mr. Blocker emphasized kindness as a principle and believes that kindness has to make a comeback. This brought about a discussion of his TEDx talk titled, "Listen More, Speak Less: Lessons in Kindness from a CIA Operative."
"As a graduate student specializing in international security, the opportunity to hear from Mr. Blocker was truly remarkable. Security has many meanings in international relations, but I was surprised to hear that security had another facet - kindness. Mr. Blocker encouraged all students looking to join the intelligence community to act with kindness and always listen to others," stated Annelise Ivy Preske, a first-year graduate student and member of the NSF team.
The conversation also touched on more practical advice to help students succeed in their careers. Mr. Blocker encouraged the students to foster intellectual curiosity, develop the ability to deal with ambiguity, and refine their writing skills. Most importantly, he encouraged listening and soft skills, which allow others to feel heard and accepted.
"Mr. Blocker listed multiple instances when active listening and a focus on shared humanity worked to his advantage over the course of his distinguished career," shared Zane Cawthorn, first-year graduate student and member of the NSF team.
Mr. Blocker had a wealth of valuable information to share with the students, summarized in his closing statements. After emphasizing the importance of doing the right thing, he left students with simple guidelines. "Listen, understand, and treat others with kindness," he said. Mr. Blocker's optimism, enthusiasm, and encouragement gave the NSF group guidance and a great experience.
The NSF team, under the guidance of alumnus and Department of Defense advisor Mohamad Mirghahari (B.A.'02/M.A.'04), has been asked by U.S. Special Operation Command Central (SOCCENT) to provide research and recommendations as to how the U.S. can leverage various sectors like culture and economics in Central Asia. In order to enhance the team's research and understanding, Mr. Mirghahari finds experts who have either regional knowledge or operational knowledge to speak with the students regarding the topic of their research.
This year's National Security Fellowship team is composed of eleven graduate students from Seton Hall University's School of Diplomacy and International Relations. Team leaders Christina Grossen and Alli Risewick led Matthew Enterline, Peter Roberto, Brent Findon, Jaasiel Forde, Anneliese Preske, Zane Cawthon, Joshua Smith, and Del Sanders as they completed and presented their report to SOCCENT and other agencies later this academic year.
Categories: Law