NSF Fellowship Meets with Former Jan. 6 Consul and DHS Attorney Bryan Bonner
Wednesday, April 12th, 2023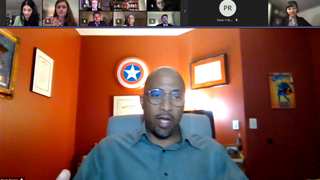 On March 9th, the 2022-2023 National Security Fellowship team (NSF) met with Bryan Bonner, Esq., to hear his views on the contemporary challenges facing national security, gather insight from his career as an officer and legal professional for numerous federal bodies, including the U.S. Air Force, Transportation Security Administration (TSA), the Office of Director for National Intelligence, and the U.S. House Select Committee on the January 6 attack. Prof. Bonner also teaches in the Fall Immersion - Litigation experiential program at Washington & Lee University School of Law.
Prof. Bonner spent the first half of his visit describing some of the more interesting aspects of his career and highlighting various facets of the industry with which he has interacted. He detailed some differences between holding legal counsel for the executive versus legislative spheres. He pointed out the unique hurdles of working on a high-profile House Select Committee under intense public scrutiny. In particular, he outlined the challenging tightrope walked between acknowledging public opinion while not giving it undue influence on the pursuit of truth in a fact-finding capacity, even when pressed by committee members.
Prof. Bonner spent the latter portion of his time discussing the current state of national security with NSF members. The evolution of the TSA and the formation of a distinct institutional knowledge and culture during its "standing up period" was mentioned. Another topic on conversation was the identification of the most pressing current threats to national security. Domestic violent extremism and its weaponization of social media was highlighted as a looming danger due to its inherent unpredictability and ability to elude quantifiability. Overall, those in attendance were challenged to take opportunities in the future to innovate their fields through confronting status quos and evolving with the flow of change, rather than becoming resistant to change and thus failing to maximize their capacity for positive impact. Prof. Bonner stated how excited he was to see how the national security landscape will change in the next decade thanks to fresh ideas and perspectives introduced by incoming industry professionals like those on the NSF team.
First-year student Josh Smith remarked, "It was an honor to speak with Mr. Bonner and learn about his experience in public service... His willingness to share his story and impart lessons that he's learned in his career left me feeling inspired and excited about the future. I am very grateful for the opportunity to meet Mr. Bonner and learn from his experiences."
Fellow first-year student Annaliese Preske added, "It was an amazing opportunity to hear Mr. Bonner's insights on U.S. national security. I was especially grateful to hear how his career has unfolded, especially his transition from prosecutorial work to national security."
The NSF team is led by Sharkey Distinguished Visiting Scholar and SHU alum, Mohamad Mirghahari '02, M.A. '04. This select group of graduate students have spent the academic year preparing recommendations and research for this year's partner, U.S. Special Operations Command Central (SOCCENT), to further their mission in the Central Asian states. Mr. Mirghahari strives to make the NSF experience professionally enriching, as well as academically engaging, and invites accomplished guests from a diverse collection of fields and backgrounds to share their knowledge and experience with students aspiring to similar careers in public service.
This year's NSF team consists of ten graduate students from Seton Hall University's School of Diplomacy & International Relations. Christina Grossen and Alli Risewick serve as team leaders to fellow students Matthew Enterline, Brent Findon, Peter Roberto, Zane Cawthon, Jaasiel Forde, Anneliese Preske, Del Sanders and Joshua Smith. The NSF team would like to thank Professor Bonner for taking the time to share his expertise.
Learn more about the National Security Fellowship here>>
Categories: Education, Nation and World