Nigerian Diplomacy Student Attends US-Africa Leaders' Summit in DC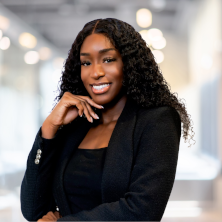 The putrid stench of the pit latrine awoke me from my sleep. I was on a train going from Lagos state to Abeokuta on a school field trip. In a groggy state, I saw people pushing and yelling around us as they shuffled off the train and into the dark. Then, I was forced off, facing the stark reality of being stranded in the middle of nowhere, uncertain of what was ahead.
My name is Idara Ben-Edet, I was born and raised in Nigeria. From being forced off a broken-down train in the middle of the night surrounded by bushes and nothing but a pit latrine on the train as a toilet to using pure water sachets, "bagged water," as a potable source of water for drinking, cooking, and bathing because of unsafe water supplies, I have seen firsthand the economic disparities that have kept most African countries in a cycle of underdevelopment.
When the President of the United States threw a big party and invited African leaders to the nation's capital, I knew it would be a perfect opportunity to experience the world of International Development outside the classroom. As a graduate student at the School of Diplomacy and International Relations specializing in International Economic Development and Africa, I am passionate about sustainable African development and wanted to see what it looked like in action.
The Biden-Harris US-Africa Leaders' summit was a high-level conference that drew delegates from 49 African countries and the leader of the African Union to Washington, DC, for an extensive three-day engagement. As a key geopolitical player, Africa's success reverberates across the world. This summit looked to strengthen relationships between the US and Africa through trade and investment, increased collaboration between public and private stakeholders, and establishing new economic engagements.
My first experience at the summit's many side events was a private rooftop networking event of African entrepreneurs and businesses looking to raise capital through successful partnerships with American financiers. Billion-dollar transactions were finalized in a relaxed environment bolstered by an open bar and expertly prepared hors d'oeuvres. In this setting, the anticipation of a successful outcome for Africa was answered by insightful conversations with the founders of the P3 Network, Adrien Yule, Jonathan Leigh, and Arsen Khousnoutdinov who work to address issues with supply chain management and infrastructure development policies. The P3 Leadership highlighted the significance of involving both private parties and government organizations. The P3 Network is committed to building economic bridges and showcasing the trade and investment relationships built at the US-Africa Leaders' Summit through public and private partnerships.
Finally, I had the opportunity to interview Nouroudine Sy, the CEO of Koubrah, a company that provides cloud and cybersecurity services to commercial and government organizations. Nourdine Sy is also team member of Africa Global Solutions, which partners with private investors and government stakeholders across multiple industries ranging from technology to education to address critical infrastructure needs in African countries. Our discussion explored the topic of African Youth Leaders and Huge Projects at the Forefront of the World.
I got a sense of the public sector's desire for public-private cooperation at this next level of engagement. I attended Global Diversity Export Initiative panel (GDEI) that Terri Batch, an international trade specialist at the U.S. Department of Commerce, skillfully curated. During this discussion, I witnessed the numerous prospects for American businesses to engage with their African counterparts. According to the GDEI panelists, the U.S. Department of Commerce and other federal agencies are well-equipped to foster trade relations between American and African businesses. The U.S. is well-positioned to invest in Africa's economic development through programs like business-led trade mission trips with the U.S. Commercial Service to open doors for diaspora-led engagements with potential customers on the African continent.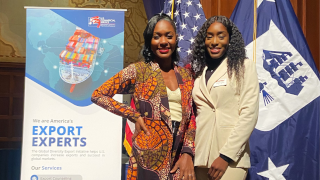 The recurring theme and key takeaway from the GDEI panel are paraphrased from one of the panelists, Seton Hall Alum, Wendy Ekua Da 'Cruz, Co-Founder of VGC Group/The Mushroom Angel Company, "when you put together people, policies, and processes, you get potential." The African continent has enormous business potential, and with the Summit's $15 billion worth of investment agreements signed, the future of US-Africa relations appears promising.
The US-Africa Leaders' Summit was an eye-opening experience that transferred the theoretical knowledge learned in the classroom to a significant real-world setting. Over 60 days have passed since the US-Africa Leaders' Summit in Washington, DC. Going back to that night on the broken-down train, I, like the rest of the world, remain uncertain of what lies ahead as we witness the effects of climate change, conflict and cyclical underdevelopment in Africa. We anxiously await the steps that still need to be taken to accomplish the lofty objectives set at the Summit.
Categories: Nation and World, Law