Safeguard your Company's Data with New Introductory Cybersecurity Course for Professionals in Corporate Intelligence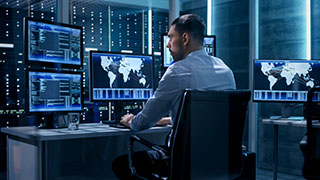 Cybersecurity operations impact an increasing number of systematic business processes and organizations are relying heavily upon a remote workforce in substantially larger numbers. That's why the new Cybersecurity for Professionals in National Security and Corporate Intelligence course, offered by Seton Hall's School of Diplomacy and International Relations, is designed to make cybersecurity available to business professionals in national and corporate environments.
According to Proofpoint, Inc.'s annual State of the Phish report, "direct financial loss from successful phishing increased by 76% in 2022." On top of that, "almost half (48%) of executives expect a rise in cyber events targeting accounting and financial data in year ahead," according to a new Deloitte Center for Controllership poll.
"Data breaches are more common costing industries millions of dollars in damages. Many of these data breaches are a direct result of social engineering, taking advantage of the human component," said Adam Nielson, instructor of the new Cybersecurity for Professionals in National Security and Corporate Intelligence course. "In today's competitive labor market, the individual who can exercise and speak to cybersecurity best practices stands out in any field."
The new course offers an opportunity to learn and understand various facets of cybersecurity such as history and trends, introduction to malware, threat landscape, insider threats, attack vectors and how to avoid associated pitfalls by applying necessary security principles.
Designed for any professional in the workforce whose goal is to protect and secure its organizational data from cyber threats, this course serves as an introduction into the field of cybersecurity. Many leadership positions require a solid understanding of cybersecurity to lead businesses in a secure way, safeguard the privacy of individuals, address regulatory requirements and protect against malicious activity.
"Organizations are now more dependent on a remote workforce whose cybersecurity is generally beyond their employer's control once they leave the office," states Nielson. "This applies whether you own a small independent business, volunteer at a local non-profit, or work remotely for a Fortune 500 corporation."
Over the course of four distinct modules, this cybersecurity course for working professionals will teach students the knowledge and, more importantly, skills necessary for securing both their personal and professional digital online presence. After successful completion, participants will confidently return to their field with actional measures, having greater confidence and increased awareness of cybersecurity's role in the modern workplace, home and personal life.
The program consists of high-level modules over the course of two days:
Introduction to Cybersecurity
Introduction to Cyber Attacks
Introduction to Malware
Defense-in-Depth
The upcoming session runs 8:30 a.m. to 5:30 p.m., June 3-4, 2023 and is offered both virtually and in person.
Seton Hall alumni interested in the program will receive 10% off. Interested alumni should e-mail [email protected] for more information.
Register for the Cybersecurity for Professionals in National Security and Corporate Intelligence Program.
Categories: Research, Science and Technology