Wednesday, November 11, 2020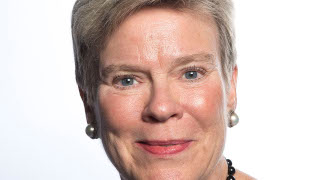 "[Your] knowledge and confidence in your ability to express your thoughts can knock people off balance, especially in situations where men are at the forefront of a discussion." -- Rose Gottemoeller
Recently, Diplomacy students had the opportunity to welcome Rose Gottemoeller, former Deputy Secretary General of NATO and Under Secretary of State for Arms Control and International Security at the U.S. State Department, to discuss the New Strategic Arms Reduction Treaty (New START) and U.S. foreign policy. Gottemoeller's visit occurred in connection with a new course on nuclear weapons and international security offered by Assistant Professor Sara Moller, made possible through a grant from the Stanton Foundation.
Professor Moller's undergraduate class engaged in a Questions & Answer session with Gottemoeller, who covered topics ranging from bilateral arms control agreements to the development of new military technology and the role of nuclear weapons in U.S. foreign policy in the future. She also welcomed questions pertaining to the gender gap in national security and the challenges she faced as a female diplomat. Gottemoeller reminded students that, "[your] knowledge and confidence in your ability to express your thoughts can knock people off balance, especially in situations where men are at the forefront of a discussion."
Students like Sarah Hyser felt that the discussion on the gender gap was a major highlight of the session. According to Hyser, a junior at the School of Diplomacy, Gottemoeller's message on women needing to be less apologetic for their opinions was a very refreshing perspective. "I think that [the discussion on] gender ties in nicely with the idea that culture is central to diplomacy," Hyser noted. Nandini Jani, a sophomore, found Gottemoeller's advice for women in diplomacy to be equally valuable. "She emphasized the importance of being articulate and confident enough to take up space in a conversation mostly comprised of men."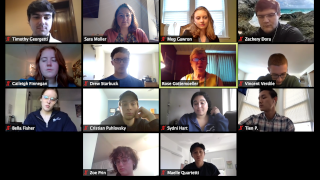 Former NATO Deputy Secretary General Rose Gottemoeller was a guest lecturer in a new Diplomacy course on nuclear weapons and international security.
Sophomore Christiana Mones enjoyed hearing about the bilateral discussions between Russia and the United States. The discussion about Russian negotiation tactics was of particular interest. "The conversation forced me to look towards the importance of the state and individual actors. Gottemoeller's account of [then] Prime Minister Putin's criticisms of New START, which is a nuclear arms reduction treaty between the United States and Russia, highlighted the importance of heads of state in international relations," said Mones.
When asked why she chose to feature foreign policy practitioners in her new course, Moller explained:
"At the School of Diplomacy and IR, we put a lot of emphasis on experiential learning inside and outside of the classroom. Whether it's initiatives like the Diplomacy Lab or the content of our courses, we're constantly working to provide our students with 'real world' experiences. I am always looking for ways to bring contemporary policy debates into the classroom. Doing so allows students to connect theory with practice, as they did during Rose Gottemoeller's visit."
Gottemoeller also answered questions pertaining to the NATO alliance and its importance to the U.S. She explained that NATO acts as a forward-basing opportunity, meaning that the U.S. is able to establish an enduring military presence in a foreign country to further its national interests. The alliance also acts as a force multiplier in terms of troops and materials which the U.S. has access to. "One of the reasons why NATO is so important," she explained, "is the constant exercising together with our allies and the overall military cooperation make our potential much stronger than it would otherwise be."
William Kanatzar, a junior, found the discussion on NATO to be particularly striking. "In asserting that U.S. presence in Europe is beneficial [because] it serves as a staging ground to counter Russian aggression, she made a solid argument which can counter questions regarding the cost of [U.S. membership] in the NATO alliance."
Gottemoeller concluded with specific advice for Diplomacy students: "Being strategically patient as a young professional is important. It is important to take the time to develop the knowledge and self-confidence to express your thoughts and opinions to [a larger audience]."
As the discussion ended, Gottemoeller expressed her appreciation for the level of engagement and enthusiasm demonstrated by students. "I am delighted to see so many students at Seton Hall who are interested in studying nuclear security, nuclear policy, and arms control," she commented. Moller, who is offering the course for the first time this semester, concurred with Gottemoeller's assessment of student interest in the topic and added that she hopes student demand will give her the opportunity to continue to offer the course going forward.
About Rose Gottemoeller:
Rose Gottemoeller is currently a Payne Distinguished Lecturer at the Center for International Security and Cooperation at Stanford University. She previously served as Deputy Secretary of NATO (2016-2019). She was the Under Secretary of State for Arms Control and International Security (2012-2016) as well as the Assistant Secretary of State for Arms Control, Verification and Compliance (2009-2014) at the U.S. State Department. In this capacity, Gottemoeller was the chief U.S. negotiator of the New START with the Russian Federation. She received her B.S. from Georgetown University and her M.A. from George Washington University.
Categories: Nation and World