School of Diplomacy Welcomes United Nations Visiting Scholar
Friday, December 10th, 2021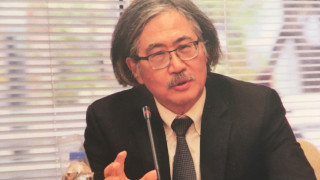 Tom Kono
Tsutomu (Tom) Kono, a senior political affairs officer from the United Nations Office for Disarmament Affairs (UNODA) 1st Committee, is currently undertaking research on how UN processes have changed during the pandemic and how they might change going forward to better confront a post-pandemic world. He is doing so as a visiting scholar at the School of Diplomacy while on sabbatical from the UN. Most UN sabbaticals take place at the hosting institution for the Academic Council on the United Nations, but through his strong relationship with Acting Dean Courtney Smith, the School is privileged to host Kono.
After the UN shut down in March 2020, Kono sought to answer the question; to what extent can digital technology substitute for in-person diplomatic parlance? To illustrate an underlying issue and possible opportunity, Kono points out that the average UN conference costs millions of dollars. This factors in costs for interpreters, documentation that must be provided in all six official UN languages, airfare, and accommodations, all of which come out of its members' assessed contributions, and ultimately, the taxpayers' pockets.
Facing the health risks of the pandemic, many States have proposed that UN sessions should be held virtually, but there has been significant pushback on this. On the one hand, there are political considerations, since voting has always been conducted in person either in the General Assembly Hall or in the separate conference rooms. Furthermore, certain countries, particularly those subjected to economic sanctions, claim that because of the embargos in place, they cannot access certain technologies that would allow them to meet virtually. On the other hand, there are logistical considerations. If a meeting is held and member states have to attend virtually, there are issues of widely differing time zones that put at disadvantage participants in certain countries who need to attend well past midnight.
While many states have been hesitant to allow voting and more important discussions to be conducted virtually, holding informal consultations to discuss potential agreements has been much more agreeable and, in certain cases, proved more effective when held virtually. "If these consultations were to continue virtually it would save a lot of time and a lot of money." From here the question becomes, to what extent can digital diplomacy help multilateral discussion? Kono's preliminary findings indicate that a hybrid solution will yield the best results but have yet to determine which elements should be held in person and what could best be done online.
Kono points out that many scholars study UN issues, but too few focus on the process involved, including the political decision-making process, and he hopes to further contribute to that field of scholarship. He adds that he's known Acting Dean Courtney Smith for over 20 years and Smith's book, Politics and Process at the United Nations: The Global Dance, provides one of the best analytical frameworks for explaining UN processes. In the coming weeks, Kono plans to discuss his research project with Acting Dean Smith and other faculty members here at the School of Diplomacy.
Originally from Japan, Kono found himself working for the UN somewhat by chance. Starting as a Japanese diplomat straight out of college, Kono was assigned by the Foreign Service to learn Arabic and become a specialist on the Middle East. He went on to serve as a diplomatic trainee first in Syria and then Egypt, after which he completed his M.A. in Regional Studies in the Middle East at Harvard University. Shortly after graduation, Kono was assigned as a political officer to the Embassy of Japan in Baghdad, Iraq, during the Iran-Iraq war. He served in Baghdad for two years before leaving the Foreign Service to pursue a career in academia, initially as a visiting scholar at Colombia University. He later became a research fellow at the Ralph Bunche Institute at the United Nations. During this time, Kono pursued a Ph.D. in Political Science at Colombia University and the City University of New York and served as interim academic officer at the United Nations University in Tokyo.
In February 1998, former UN Secretary-General Kofi Annan negotiated a deal with Saddam Hussein to allow weapons inspectors into his presidential palaces in Iraq. Annan entrusted Jayantha Dhanapala, a former Sri Lankan ambassador to the United States and newly appointed undersecretary-general for disarmament, to lead the inspections of the presidential palaces. However, when Dhanapala arrived at the UN, he had no aides or professional help for his new assignment. Dhanapala asked Annan for the funds to hire staff but was told he could only hire a single person. Dhanapala wanted an aide who had experience living and working in Iraq, and also spoke Arabic. Coincidentally, Kono was on the roster of successful candidates who passed a competitive midcareer UN exam. Kono was offered the job, which marked the start of his career in disarmament at the UN Secretariat.
Kono started out working as a political affairs officer at the UN in 1998, conducting research on Iraq and reporting on the work of the Security Council directly to the Undersecretary-General and the Secretary-General. After eight years working as advisor to three undersecretaries-general, he went on to work in Geneva, where, for five years, he supported the work of the Conference on Disarmament, the single multilateral negotiating body for disarmament treaties. "It's [disarmament] one of the hardest issues to negotiate because it's closely related to the national security of member states," he says. Since returning to New York from Geneva in 2011, Kono has continued working on disarmament issues, from weapons of mass destruction and conventional weapons to regional disarmament.
Categories: Nation and World