Diplomacy Professor Discusses Crisis in Israel and Gaza on PBS Interview
Thursday, November 16, 2023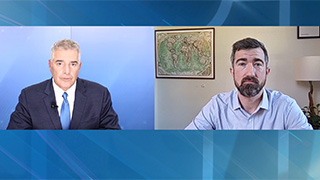 Joseph Huddleston, Ph.D., Associate Professor in the School of Diplomacy and International Relations, appeared on the PBS program, One on One with Steve Adubato. Watch here.
Adubato, the Emmy-award-winning TV host who also teaches at Seton Hall, spoke to Huddleston about the devastating crisis in Israel and Gaza. The aim of the segment, said Adubato, was to help himself and his viewers become better informed about the historical and political context of the war. Asked why the conflict between Israel and Hamas was important to New Jerseyans, Huddleston explained that the situation in the Middle East "represents one of the most intractable, ongoing human rights catastrophes that repeats itself over and over again."
A specialist in diplomacy by rebel groups and the dynamics of intrastate conflict, Huddleston referenced the victimization of civilians that has occurred on both sides of the conflict. He noted that groups like Hamas and the Islamic State turn to terrorism as a way of destroying peace-building efforts that most citizens support, no matter where they live. Terrorism, he said, is used by armed groups to "provoke strong, repressive reactions from a state against their own constituencies," in this case the people of Gaza. The objective of Israel's aggressive military response, Huddleston believes, is to bring an end to Hamas, whose charter calls for the country's destruction.
Huddleston teaches the graduate course, Politics of Terrorism in the Middle East. He has served on the School of Diplomacy's faculty since 2018 and as a Senior Fellow at the School's Center for Peace and Conflict Studies. Huddleston offered that the violence the world is witnessing in Israel and Gaza right now could strengthen hardliners on both sides, giving them more relevance and limiting efforts by those seeking to use policy and compromise as a means of restoring peace.
In response to a question from Adubato about the historical context for Israel's current policy in Gaza, Huddleston spoke in depth about the conflict's origin in British colonialism and the Mandate for Palestine. Advanced by the League of Nations in 1918, the declaration provided a homeland for the Jewish people, stateless and persecuted for centuries and displaced by the Holocaust. That migration to the Middle East in turn forced the displacement of the Arab people living in villages in Palestine, which immediately ignited conflict that affects Israeli and Palestinian civilians to this day. "That is the history of this place for 100 years. It's a very complex dynamic," Huddleston said.
Adubato asked about the relevance of the war to local viewers in the New York metro area, particularly for Jewish and Palestinian Americans. "I urge people to see the human suffering on every side of this conflict," Huddleston responded. "It's always there for you to witness. You have to see that or else you cannot be open to the kinds of peaceful political solutions that are necessary to end a repeating conflict like this."
Ending the conversation with a note of quiet optimism when Adubato asked about the possibility that anything positive could emerge from the crisis, Huddleston says, "good leadership always has an opportunity to steer the ship in a new direction."
To learn more about Professor Huddleston's extensive research in the field of conflict studies, which includes his newest title:  Conflict and Peace in Western Sahara: The Role of the UN's Peacekeeping Mission (MINURSO), edited with János Besanyő and Yahia Zoubir, and Routledge Studies in Middle Eastern Politics book series. Huddleston has also contributed to "The United States and MINURSO: 31 years", with Edder Zarate, in Conflict and Peace in Western Sahara: The Role of the UN's Peacekeeping Mission (MINURSO), eds. János Besanyő, Joseph Huddleston, and Yahia Zoubir, Routledge. And, in 2021. "Foulweather Friends: Violence and Third Party Support in Self-Determination Conflicts" which appeared in the Journal of Conflict Resolution, and also in that year, his article on "Functional Markets in Yemen's War Economy", Journal of Illicit Economies and Development 2(2).
In addition to writing in peer-reviewed outlets, Professor Huddleston has contributed analysis to The Wall Street Journal, Foreign Policy, and Foreign Affairs. He has written government policy reports and has been a guest contributor to numerous news, radio, and podcast outlets. He is the research design adviser for and Senior Fellow at the School of Diplomacy's Center for Peace and Conflict Studies.
Categories: Nation and World