School of Diplomacy and International Relations Sharkey Scholar Hugh Dugan was recently appointed Principal Deputy Special Presidential Envoy for Hostage Affairs at the U.S. Department of State.
In this capacity, Dugan will work closely with foreign governments, the Hostage Recovery Fusion Cell and the families of American hostages to secure the safe return of Americans held hostage overseas, according to the State Department.
National Security Advisor Ambassador John Bolton swore Dugan into office in Washington, D.C. in March.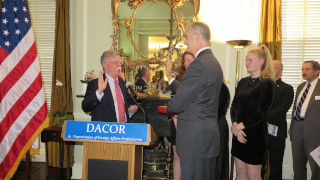 National Security Advisor Ambassador John Bolton swears in Professor Hugh Dugan.
"The Oath of Office ceremony for Hugh Dugan was truly a wonderful event. The room was packed with people representing Hugh's many networks: the U.S. Foreign Service, the academic community, the international Olympic truce movement and more," said Senior Associate Dean of the School of Diplomacy and International Relations Courtney Smith. "All of us share a sense of excitement about the critically important work that Hugh will be doing to bring Americans home to their families, and also the firm belief that he is the right person to be in this role."
Dugan's appointment at the State Department is the latest installment in a long career dedicated to diplomacy and public service. Dugan served as U.S. Delegate to the United Nations and a Senior Advisor to 11 U.S. Ambassadors to the United Nations from 2002-2015. Prior to his U.N. service, Dugan was a Senior Fellow and advisor to the Senate Foreign Relations Committee's Subcommittee on International Operations and Terrorism. Dugan also held positions at the State Department's Bureau of Economic and Business Affairs, the U.S. Consulate general in Bermuda and the U.S. embassy in Mexico City, Mexico.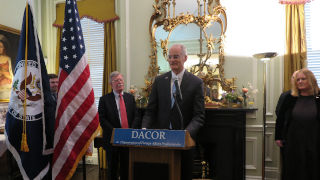 Professor Hugh Dugan speaks at his swearing-in ceremony
At Seton Hall, Dugan has a long-standing relationship with students as a Sharkey Distinguished Visiting Scholar for the School of Diplomacy. He serves as a Fellow with the School's Center for U.N. and Global Governance Studies, and has also directed the School's U.N. engagement, advised the School's U.N. Studies Graduate Certificate program and contributed to professional development.
Dugan is taking a leave of absence to assume his post at the State Department. Dean Smith said, "He will be missed at the School and University during his tenure, and we look forward to welcoming him back once his service is complete."
Categories: Nation and World