Diplomacy Launches Three New Programs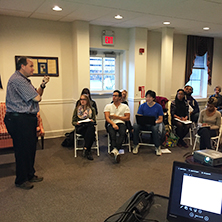 Exciting things are happening at the School of Diplomacy! In addition to welcoming two new faculty members, the School is pleased to officially announce the launch of three new undergraduate degrees, which will eventually be translated into graduate specializations and programs.
Two of the new degrees work closely with the Economics department of the Stillman School of Business to offer a Bachelor of Science in International Quantitative Economics and International Relations and a Bachelor of Science in International Economics and International Relations. The last degree helps bring the School of Diplomacy into the homeland security space with the Bachelor of Science in International and Homeland Security. These degrees represent the continual efforts of the School of Diplomacy to attract new students and serve evolving workforce needs.
Economics and homeland security have been identified as high-growth fields for projected labor demands in the coming decades. To address that opportunity, the School looks to the already successful relationship with the Economics department. As of the spring semester, there were 23 Economics and International Relations double majors and 20 Economic minors. The programs combine classes that currently exist within both departments, thereby allowing students to combine their interests and continue to grow both programs.
The new homeland security program proposes three classes, Comparative Homeland Security, Intelligence and National Security, and Cybersecurity and International Security, which were developed specifically for this program. When students were surveyed in the Spring, 60% showed interest in all three classes, with Intelligence and National Security being the most popular. Current and new faculty members will shape this new program as the School continues to prepare students to address emerging security concerns.
Dr. Edwards, the new Associate Dean for Academics and Student Affairs, remarked, "Diplomacy has always been innovative in developing new programs. These three new undergraduate programs respond to the needs of the marketplace and retain our essential DNA as globally focused and career ready." The School of Diplomacy prides itself on its commitment to developing all student' expertise, skills, and character, and these new programs build a future where that continues.
Categories: Nation and World