M.A. Student Bradley Kaufman Represents Diplomacy and National Security Fellowship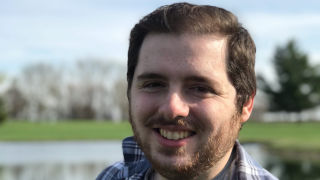 Graduating M.A. candidate Brad Kaufman represented the School of Diplomacy at a reception held on April 6th for Seton Hall scholarship doors and recipients. Along with student representatives from other colleges at the University, Kaufman fielded questions about the School of Diplomacy for University donors. In addition to his talent as a student and a research assistant, Bradley was selected based on his participation and leadership in Diplomacy's National Security Fellowship (NSF), where he served as a mentor to the student research team and researcher this year after participating as a first-year researcher last year. Kaufman discussed the operational paper that NSF prepared on U.S. relations with Pakistan, its policy recommendations that were commissioned by the U.S. Department of State, which included strategic messaging, public diplomacy, security, environment and climate, and the economy to strengthen the relationship between the two states. He spoke about the Open-Source Intelligence (OSINT) data and analytics that he and the team worked to produce with OSINT company Echo Analytics Group. This data provided insights on how much impact government dollars were having on U.S. Pakistan relations.
He also detailed for donors the expansion of Diplomacy's student body and the strength that the program has built over past several years. Through his interactions with donors, Kaufman brought Diplomacy's accomplishments to a wider audience and showed its growth throughout the past two decades into an integral component of Seton Hall University. Kaufman says that his experience helped him build up his confidence and ability to present and interact with new audiences, an important skill for any diplomat.
Prior to joining the Diplomacy community, he was a member of FEMA's Public Assistance Cadre, working in disaster relief during which he had the opportunity to live in Puerto Rico. Kaufman hopes to continue working in Open Source Intelligence post-graduation and blend it with his specializations in Foreign Policy Analysis and International Economics and Development.
Categories: Education