Diplomacy Student Delivers Presentation at Yale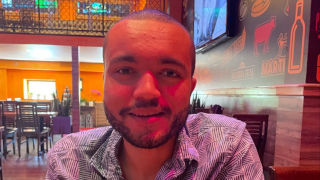 Franklin Shobe, a graduate student at Seton Hall's School of Diplomacy and International Relations, delivered a presentation titled "Ukrainian Political Economy: An Analysis of Past, Present, and Future Trends" at Yale University's Russian East European and Eurasian Studies Northeast Network (REEESNe) Student Conference that occurred last April 1-2. Held over Zoom, the conference was hosted by Yale's MacMillan Center for Cultural and International Studies and included 8 separate panels with presentations from both undergraduate and graduate students from schools across the US Northeast, including Seton Hall, Long Island University, Middlebury College and more.
Shobe, a first-year graduate student, found Yale's call for papers via Seton Hall's weekly E-news and sought guidance from Diplomacy Professor Nabeela Alam, Ph.D., for constructing an abstract to submit. The abstract was for a paper examining the political economy of Ukraine, providing policy prescriptions for Ukraine post-conflict, and including methods for state building that would spur future development.
On April 2nd, Shobe delivered his 15-minute presentation during the 6th panel: Politics and Economics, which was moderated by Professor Cris Scarboro from King's College. The panel consisted of presentations about Russian Special Operations, the Gulag system, and the central Asian cotton markets' relationship with colonialism, delivered by both undergraduates and graduate students from participating schools. Following the presentations, there were moderated Q&A sessions for presenters.
"Working hard and delivering a presentation to peers from other schools offers a great chance to utilize your skills and help build your confidence," Shobe said. "I hope I get the chance to present my work at other forums in the future. If any student has a chance to participate in a similar event, I highly recommend it."
Categories: Education