Center for Peace and Conflict Studies Hosts Fifth "All Conflict is Local" Conference
Monday, November 9th, 2020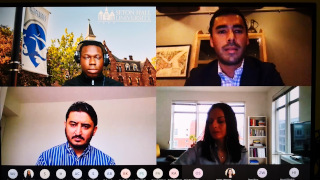 School of Diplomacy students, alumni and faculty outlined new perspectives for addressing and resolving conflict.
On October 20th and 21st, the Center for Peace and Conflict Studies held the fifth annual "All Conflict is Local: Personal Experience, Reflection and Conflict Resolution" conference. This year was unique in that the conference was held entirely online, providing a forum for presenters from across the United States and around the world, including Cyprus, Pakistan, and Turkey.
Professor Zheng Wang, Ph.D., director of the Center, opened the discussion by discussing the significance of the conference's title and the idea that "All Conflict is Local. " Despite how far-reaching and complex a conflict is, everyone has their own unique, local perspective that can help outline new perspectives to addressing and resolving conflict. Next, in his opening remarks, Courtney Smith, Ph.D., dean of the School of Diplomacy, stressed that experts can learn more about a topic from their students who share their personal experience and knowledge, and that the conference is an essential platform for such an exchange.
The two-day conference was divided into three panels. The first panel explored the intersection of community, humanitarian development, and conflict resolution. Brandon Kotlow, M.A. '16, presented a summary of how the Strategic Capacity Group, a security-building nonprofit organization, is helping to reform policing practices in Nigeria by strengthening community ties. Next, current graduate student Kyle Jensen shared his experience in Madagascar as a member of the Peace Corps and outlined how local norms and perceptions caused conflict over how to solve the issues of water access. Lastly, Pariwish Abbasi provided her detailed personal experience of responding to humanitarian disasters in Pakistan and how conflict resolution techniques can help make humanitarian aid efforts allocate resources more efficiently.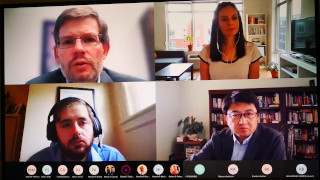 "The All Conflict is Local" conference brought together panelists from across the U.S. and as far away as Cyprus, Pakistan and Turkey.
The second panel addressed approaches to mending split societies, focusing on the division of Cyprus and racial tensions in America today. The first presenter, Constantinos Adamides, Ph.D., M.A. '06, explained how the division of Cyprus is not just political. The split, he said, has also been ingrained into society north and south of the 'green line'. The second panelist, Troy Dorch, M.A. '19, discussed the failure of America's Reconstruction, its implications for the African American community in the past and present, and how community leaders can address issues of racial inequality.
The third panel was held on October 21st and addressed peace building efforts amid the civil strife in Yemen, Colombia, and Nigeria. Ali Balobaid, M.A. '18, discussed the underlying political tensions and development challenges that resulted in the ongoing civil war in Yemen, focusing on local power struggles and how to address them on a federal level. Andrés Polanco followed with a presentation on his perspective of how the youth of Colombia lived before, during, and after the end of the Colombian Civil War. The final presentation was led by Chimdi Chukwukere, who addressed how local religious differences and legacies of colonial institutions have led to stark levels of violence and human suffering in Nigeria.
Notably, this year's conference featured more presentations from alumni than years past. Dr. Adamides now works at the University of Nicosia as an Assistant Professor of International Relations; Mr. Kotlow shared his perspective as a Program Officer at the Strategic Capacity Group from Washington D.C.; Mr. Dorch is a Senior Fellow at the Tinker Institute on International Law and Organizations; and Mr. Balobaid, since achieving his M.A., has worked as the second secretary at the Permanent Mission of the Republic of Yemen to the United Nations.
In his conclusion, Professor Wang mentioned that The Center for Peace and Conflict Studies was lucky to have a wide range of unique perspectives, both current students and alumni, and looks to maintain relationships with alumni in the future. The Center has many initiatives underway around the world, including projects such as dialogues between U.S. and Chinese officials, enhancing peace capacity in Yemen, health diplomacy in Libya, and Effective Peace Programming Support in Sri Lanka.
Categories: Arts and Culture, Nation and World