All Conflict is Local Conference Features Students
Tuesday, December 14th, 2021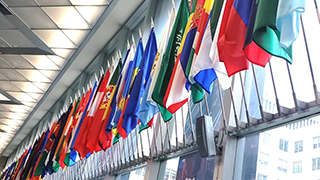 The School of Diplomacy's Center for Peace and Conflict Studies held the sixth annual "All Conflict is Local: Personal Experience, Reflection and Conflict Resolution" conference on November 19th. Held virtually, the conference allowed both students and professors from around the world to present and discuss several important and timely issues.
Professor Zheng Wang, Ph.D., director of the Center, and Courtney Smith, Ph.D., dean of the School of Diplomacy opened the discussion by emphasizing that the conference invites our students and alumni who have had direct personal experience with a particular conflict, or a region that has experienced a violent conflict, to share their stories and reflections to better understand that "All Conflict is Local."
The first conference session was chaired by Dr. Tatsushi Arai, a CPCS Senior Fellow and former visiting scholar at the School of Diplomacy who was a UN senior mediation advisor with 20 years of international conflict resolution experience, currently serving as an associate professor from Kent State University. This session's theme revolved around Afghanistan. The former Afghan Ambassador to Saudi Arabia and an executive M.A. student at the School, Sayed Jalal Karim, discussed his point of view on the collapse of Afghanistan's government following the United States' withdrawal. CPCS Project Assistant and M.A. student Elena Pol shared her experience working with Afghan refugees at a U.S. federal facility in New Jersey, not too far from Seton Hall's campus.
The second session was chaired by Dr. Hans Gutbrod, a CPCS Senior Fellow and Associate Professor from Ilia State University. This session's theme was "Making and Keeping Peace." During this session, John Yuhas, a former UN military liaison and executive M.A. student, shared his personal experience working towards reconstruction in Kosovo after the Yugoslav wars, including a story on how assisting a local winery held together a community. Next, Kyle Jensen, a CPCS Project Assistant and M.A. student, spoke about the nexus of public health and peace. His experience helping Middle Eastern nations develop health programs contributed towards his belief that public health is necessary for lasting peace.
School of Diplomacy Assistant Professor, Joseph Huddleston, chaired the third session, which featured presentations that were given by M.A. students Alli Risewick and Chimdi Chukwukere. Risewick's presentation provided a rare perspective on the immigration crisis at the US-Mexico border. She personally witnessed struggles and successes as a volunteer at a facility. Chukwukere's presentation covered his family's harrowing experiences in southeastern Nigeria, where the Biafra separatist movement has posed a dangerous threat to civilians and the government alike.
Notably, this year's conference was driven and attended by a great many current Seton Hall students. The presentations were given by current M.A. candidates, while last year featured more presentations from alumni. A key takeaway from the conference is that peace is obtainable by focusing on reality and approaching situations from local perspectives.
In his conclusion, Professor Wang mentioned that the Center for Peace and Conflict Studies was lucky to be able to provide a forum that included a wide range of unique perspectives from the session chairs, the presenters, and the audience members. The Center has many initiatives underway around the world, including projects in the MENA region that aim to establish a regional conflict prevention strategy.
Categories: Education