Black Diplomacy Student Organization 
BDSO provides a safe space and support for networking opportunities, career development, academic excellence and a community for Black Diplomacy students of all grade levels and beyond.  shu bdso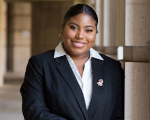 Black History Month Seen Through a New Lens with the Black Diplomacy Student Organization
 The Seton Hall Black Diplomacy Student Organization honored Black History Month through community, mentorship, and friendship. 
Read More. 
SHU Latin American Diplomacy
SHU Latin American Diplomacy is a student initiative that celebrates and fosters Latin America's diverse identities and cultures. Covering domestic and international affairs, the group hosts and promotes events that discuss human rights, politics, economics, and cultural matters in the region. Its ultimate goal is to enhance awareness about Latin America to the students of the School of Diplomacy and to the broader Seton Hall community. All are welcome to join the group and participate in its events. For more information, contact Ricardo Sanchez at ricardo.sanchez@student.shu.edu.
Women of Diplomacy Leadership Program 
The Women of Diplomacy Leadership Program (WDLP) strives to empower female leaders within the School of Diplomacy through cultivating their professional identities and fostering relationships with established women in the field. By hosting monthly events and utilizing social media as a tool for knowledge-sharing, WDLP provides resources and community-based support to help our young women thrive in their chosen field. Additionally, WDLP hosts a mentorship program, which further allows members to learn first-hand from established female professionals and to build meaningful connections that will have positive, lasting implications on their journey to success.  shuwomenofdiplomacy