University Core Curriculum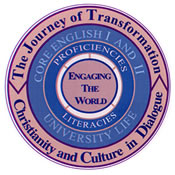 Core Curriculum is rooted in questions central but not exclusive to the Catholic intellectual tradition. Seton Hall's Signature Courses stress student self-knowledge, a passion for intellectual and ethical engagement, and the development of critical thinking, thoughtful communication, and servant leadership habits for a diverse and evolving world. Read more »
Proficiencies
Proficiency-infused courses provide students with the systematic and ongoing development of competencies:
Reading and Writing
Oral Communication
Information Literacy
Numeracy
Critical Thinking
For Students
Why is the Core interdisciplinary?
How does the core curriculum distinguish Seton Hall from other universities?
For Parents
Resources have been provided to help you better understand the University Core Curriculum, its history and rationale.
Scholars' Forum
The Scholars' Forum in the Catholic Intellectual Tradition consists of faculty talking about their recently published or soon-to-be published books, related in one way or another with the Catholic Intellectual Tradition. It takes place on Microsoft Teams, usually monthly, on Wednesday, at 4 p.m.
University Core Courses
Seton Hall University's Core Curriculum is an approach to general education that encourages students to become thinking, caring, communicative and ethically responsible leaders with a commitment to service.
The Core Curriculum consists of six common courses, as well as the systematic development of five academic proficiencies through the study of the liberal arts and sciences.
Learn more about the course offerings »
*Please note: Besides the University Core Courses, which all Seton Hall University students are required to take, each school or college also has its own requirements. In some cases, as in the College of Arts and Sciences, these requirements are referred to as that college's "core." However, these requirements are specific to each school or college and are distinct from the University Core requirements.
The Core
Every Seton Hall student is required to take three classes - known as the Core - that creatively connect Catholic thought with the natural sciences, literature, history, music and other fields.
A Core Education
Seton Hall University presents students with a unique study of the major world texts and Catholic intellectual traditions as they relate to the "great questions of life".