International Gita Symposium Attracts Worldwide Audience of More Than 15,000 Viewers
Wednesday, August 19th, 2020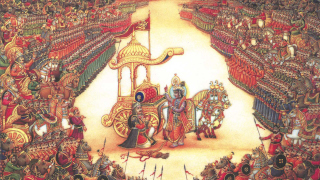 Seton Hall University co-hosted the virtual International Gita Symposium 2020, "The Bhagavad Gita and Humanity Today." Depicted above: Kurukshetra, the battlefield of the Mahabharata, where Krishna revealed his divine form and responded with what is now known as the Bhagavad Gita.
On Friday, August 14, the College of Communication and the Arts' Institute for Communication and Religion (ICR) at Seton Hall University co-hosted the International Gita Symposium 2020 with Singapore's Gita Jayanti Committee.
This virtual forum "The Bhagavad Gita and Humanity Today," which garnered close to 600 attendees on the University's viewing platform, brought international scholars and faith leaders together to explore practical wisdom shared in the Bhagavad Gita, an ancient Hindu spiritual masterpiece. To help connect timeless wisdom to contemporary challenges, the Symposium featured both expert presentations and responses to audience questions.
In addition to Seton Hall's livestream, the event was simulcast by Shemaroo, a leading media and content distribution company based in India. Their YouTube presentation of the event has already garnered more than 12,500 views, with 267 likes and 15 comments. The video broadcast on Facebook had 2,300 views, with 260 reactions and 23 comments.
Charles Chow, Ph.D., of Singapore's East-West Group and a co-organizer for the event explained how moving the event online achieved unprecedented reach. "Because of Covid-19, more than 15,400 people were engaged globally in this symposium which would have otherwise been limited to only about 500 people in Singapore!" said Chow. This viewership level makes it the ICR's largest event to date, far surpassing any of the other virtual events held by the University this year.
Shemaroo's General Manager (USA) Kunal Wadhwani said, "The Bhagavad Gita teaches crucial life lessons on self-management and a platform like the International Gita Symposium is helping spread this knowledge, just like how we're doing with our speaker, Shemaroo Shrimad Bhagavad Gita," referring to their new audio-book Bluetooth device. "We are proud to be associated with this symposium and congratulate Seton Hall University and Gita Jayanti Committee (Singapore) on a successful event."
Attendees logged on to this virtual event from not only from the U.S. and Singapore but from countries all over the world, including Argentina, Australia, Belgium, Canada, China, France, Germany, Ghana, Greece, India, Indonesia, Israel, Italy, Japan, Malaysia, Nepal, Nigeria, Qatar, South Africa, The Netherlands, Tanzania, Trinidad, United Arab Emirates, West Indies and the United Kingdom.
Watch a recording of the full event here. In addition, an audio recording of the event will be re-broadcast on Seton Hall's radio station WSOU 89.5 FM at 6 p.m. on Sunday, August 23.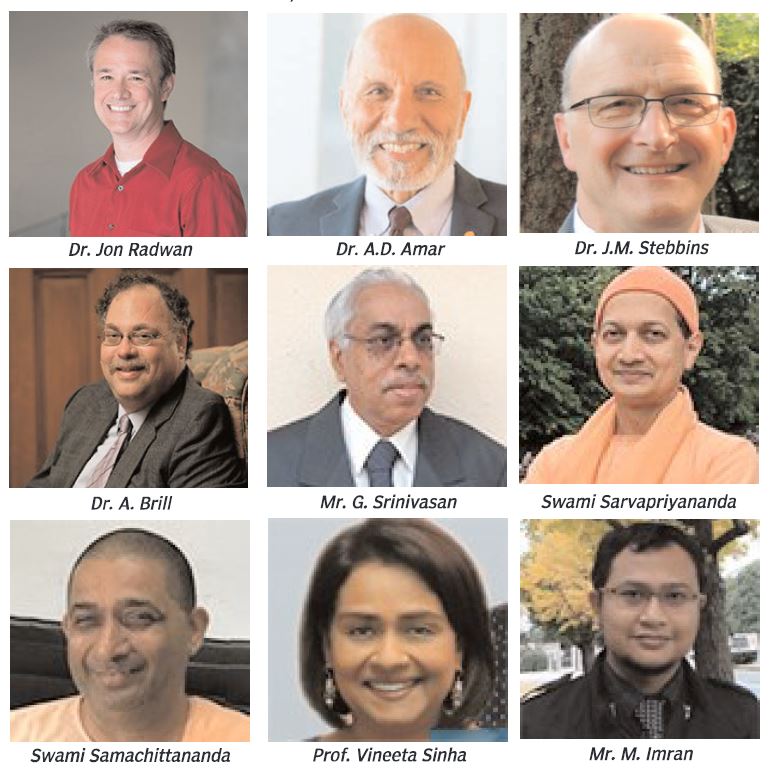 The virtual forum brought scholars and faith leaders — from Seton Hall University and worldwide — together to explore practical wisdom shared in the Bhagavad Gita.
The event also achieved important intercultural and interreligious goals. A. D. Amar, Ph.D., Professor of Management, Stillman School of Business, formally convened the event with a call to advance "humanity's duty to establish virtue and preserve the good." With diversity, equity and inclusion as key themes in 21st century education, ICR Director Jon Radwan, Ph.D. and Rabbi Alan Brill, Ph.D., Cooperman/Ross Endowed Chair for Jewish-Christian Studies, both made harmonious interfaith relationships and equality central to their presentations.
"The International Gita Symposium was a wonderful collaboration with our colleagues in Singapore that demonstrated to everyone that inclusivity is a truly global spiritual value," said Radwan, ICR Director.
Michael Stebbins, Ph.D., Toth/Lonergan Visiting Professor in Interdisciplinary Studies, served as moderator of the event. Additional speakers outside of the University were Mr. G. Srinivasan, Chairman, Gita Jayanti Committee, Singapore; Swami Sarvapriyananda, Minister and Spiritual Leader of Vedanta Society of New York; Swami Samachittananda, President of Ramakrishna Mission, Singapore; and Professor Vineeta Sinha, Head of Department of Sociology, National University of Singapore. Bios of each speaker can be found here.
Mohammed Imran, Director of Singapore's Centre for Inter-faith Understanding, closed the event with a formal vote of thanks. He praised it as a "truly ground-breaking event" of religious pluralism and explained that "in engaging the text it brings us to a creative synthesis of ideas, including shared values."
About the Institute for Communication and Religion
Launched in Fall 2017, the Institute for Communication and Religion within the College of Communication and the Arts provides a nexus for ongoing scholarly exploration of communication topics critically important to religion and society. Guided by the spirit of ecumenical and interreligious cooperation, the Institute seeks to engage in public dialogue and debate, promote academic inquiry and support the religious dimension of creativity — all while upholding the values of servant leadership, curricular innovation and intellectual excellence.
ICR's next conference "Communication and Religion in the 2020 US Election" will be held October 21-23, as a panel of national experts examine the religious themes and messaging in Presidential politics. A special highlight will include real-time commentary and analysis of the final Presidential debate on October 22. This free conference is generously funded by the Lilly Fellows Program in Humanities and The Arts.
Categories: Arts and Culture, Nation and World