Provost Passerini Elected to Board of International Federation of Catholic Universities
Thursday, September 1st, 2022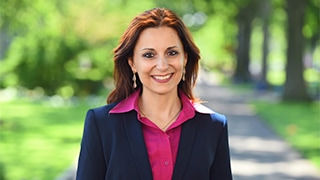 Katia Passerini, Ph.D., Seton Hall Provost and Executive Vice President, was elected to the Administrative Board for the International Federation of Catholic Universities. The election took place at the IFCU General Assembly at Boston College in August, which was attended by 200 leaders of Catholic universities around the world.
Following her election, Provost Passerini now serves as the representative of North America on the Board. Her term runs from 2022 through 2025.
"I am delighted to have been elected to represent North America in the IFCU," said Passerini. "After a 4-day meeting in Boston, I can say that this association is like the United Nations of Catholic higher education. In fact, the Secretary General of the United Nations shared his welcome remarks via video to the conference."
The IFCU is the world's largest and most diverse international network of Catholic universities. This world-renowned higher education organization, created in 1924 and based in Paris, is marked by both its geographical extensiveness and its cultural richness. It serves to connect Catholic universities around the world to advance research, pedagogy, and Catholic mission.
Prof. Francois Mabille, General Secretary of the IFCU, celebrates Passerini's election to the board, noting that it will bolster the relationship between Catholic universities in North America and on other continents. He said, "Seton Hall university joined IFCU in 2021 and took the leadership of an international task force on Catholic studies. Today we are proud and happy to welcome Katia Passerini, Provost of the University, to the Board of the Federation. This election is a sign of the confidence that all our members place in Seton Hall, and contributes to strengthening the links between the Federation and the North American Catholic academic world."
Although a new member of this organization, Seton Hall is established as a productive contributor to the work of IFCU through the development of broad-based partnerships with the Catholic University of South Sudan and the Universidad Popular Autónoma del Estado de Puebla (UPAEP) in Mexico. Additionally, under the direction of Ines Murzaku, Ph.D., Professor of Religion and Director of Catholic Studies, Seton Hall is overseeing a new intercontinental IFCU working group focused on exploring how the Catholic Intellectual Tradition can be integrated into curriculum for all disciplines. Over the past year, Seton Hall's programs — in particular, its Catholic Studies and CORE initiatives — have been featured in several IFCU webinars and conferences.
"I am delighted that Seton Hall University is making a mark at IFCU, with Provost Passerini's board election, although the university joined IFCU recently. Being part of IFCU is like being part of a big international family, where one can exchange, change, and grow in experience, applying the Catholic Intellectual Tradition," said Ines Murzaku, Ph.D., Director of Catholic Studies and IFCU Catholic Studies research group director.
Prof. Murzaku also said that Seton Hall plans further involvement in the IFCU this year, sharing best practices the university has developed and learning from international peer institutions. "With Provost Passerini's increasing involvement in the IFCU, our students and faculty are sure to benefit even more from global collaboration," said Prof. Murzaku.
Categories: Faith and Service