Life in Literature Series — a dramatic reading of "The Land" by Padraic Colum
Wednesday, October 19th, 2022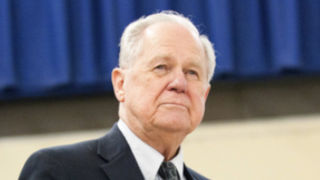 The Department of Catholic Studies and the G. K. Chesterton Institute for Faith & Culture at Seton Hall University proudly announce an event in the Life in Literature Series an adaptation by James McGlone, Ph.D.
The event will be held on Wednesday, November 2, 2022, at 7 p.m. in the Walsh Gallery (Walsh Library, 1st floor).
About the Event:
This event's dramatic reading cast is made up of veteran members of the old Celtic Theatre Company. In a way, this reading is their expression of affection to the thirty years of active association we had with Irish actors and playwrights. Happy Days!
The dramatic reading will be followed by a commentary by Dermot Quinn, D.Phil.
About Padraic Colum and The Land:
Padraic Colum (1881 – 1972) was an Irish poet, novelist, dramatist, biographer, playwright, children's author, and collector of folklore. He was one of the leading figures of the Irish Literary Revival.
When The Land was first produced in 1905, it was, in author Padraic Colum's words, "The first popular success the Irish Theatre had." As The Freeman's Journal explained, "what we have been waiting for was a play that should be at once good and popular. Mr. Colum has caught up his play out of the mid-current of actual, Irish Life."
The subject of the play was to celebrate the Wyndham Act of 1903, the legislation that ended the Land War by persuading the landlords to sell their entire estates to their tenants, who bargained as a group on the terms of the sale. The tragedy or, at least, the irony of this solution was that it created a struggle between the older and younger generations concerning the inheritance of the land. The action of the play is set in an Irish midlands county, where a group of tenant farmers assemble at the house of Murtagh Cosgar to confer and arrange the terms upon which they should purchase their respective holdings.
For more information, please contact Gloria Aroneo, M.B.A., at [email protected] or (973) 275-2808.
About the Speakers:
James P. McGlone, Ph.D., Professor Emeritus
Professor James McGlone has a Ph.D. in theatre from New York University, an M.A. in speech and communication from Catholic University of America, and B.A. in communication arts from Seton Hall. In 2013, McGlone joined the Department of Catholic Studies after teaching for almost five decades at Seton Hall. Education, in Prof. McGlone's opinion, is a conversation that involves talking about things that matter; it implies a love of people, generally referred to as friendship, and a love of words, the only, if imperfect, symbols we have with which to enter each other's mind and spirit. He adheres to W. B. Yeats' suggestion that "I must be talking to my friends," and in that category he includes students and colleagues. That is Professor McGlone's goal when engaging students in his classes.
Dermot Quinn, D.Phil., Professor
Professor of History at Seton Hall University and Editor of The Chesterton Review, Quinn was educated at Trinity College, Dublin, and New College, Oxford, where he was awarded a doctorate in 1986. He has written extensively on Chestertonian themes, has authored three books: The Irish in New Jersey: Four Centuries of American Life (Rutgers University Press, 2004; winner, New Jersey Studies Academic Alliance, Non-fiction Book of the Year, 2005), Patronage and Piety: The Politics of English Roman Catholicism, 1850-1900 (Stanford University Press/Macmillan, 1993), and Understanding Northern Ireland (Baseline Books, Manchester, UK, 1993), as well as many articles and reviews in the field of British and Irish history.
About the Sponsors:
Catholic Studies
Catholic Studies at Seton Hall University offers an innovative, interdisciplinary curriculum for students of any creed who are interested in deepening their knowledge of Catholicism's rich intellectual tradition and living heritage. Combining the study of history, philosophy, theology, literature, art, sociology, and other disciplines, Catholic Studies focuses on the Church's dialogue with culture and encounter with the world. Students interested in Catholic Studies have the option to pursue a major, minor, or certificate that complements and enhances the university's other degree programs and fields of study. Over 20 years the academic program and its variegated activities have stayed true to and fulfilled the Catholic mission and vision of the University. For more information, please contact Professor Ines Murzaku at [email protected] or Gloria Aroneo at [email protected].
The G. K. Chesterton Institute for Faith & Culture
The G. K. Chesterton Institute for Faith & Culture is located at Seton Hall University, South Orange, N.J. Founded in 1974 by Father Ian Boyd, C. S. B., its purpose is to promote the thought of G. K. Chesterton and his circle and more broadly, to explore the application of Chestertonian ideas in the contemporary world. The Institute's work consists of conferences, lecture series, research, and writing. The Chesterton Review, founded in 1974, has been widely praised both for its scholarship and for the quality of its writing. The journal was founded by Father Ian Boyd, C. S. B., and is edited by Professor Dermot Quinn. It includes a wide range of articles not only on Chesterton himself, but on the issues close to his heart in the work of other writers and in the modern world. It has devoted special issues to C. S. Lewis, George Bernanos, Hilaire Belloc, Maurice Baring, Christopher Dawson, Cardinal Manning, the Modernist Crisis, J. R. R. Tolkien, Fantasy Literature, and a Special Polish Issue. The Chesterton Review also publishes one annual issue in Spanish and an annual supplement in Portuguese and French. For information about the Institute or The Chesterton Review please contact [email protected] or visit the Institute's website.
About the Walsh Gallery:
The Walsh Gallery enhances the intellectual life of Seton Hall University and the greater community through dynamic, interdisciplinary exhibitions of exemplary artistic and cultural value. Essentially a place of learning, the Walsh Gallery promotes Seton Hall's Catholic mission by fostering the development of students into servant leaders through diverse programming in a collaborative environment. For more information and visiting hours, please visit the library's website.
Categories: Arts and Culture, Faith and Service