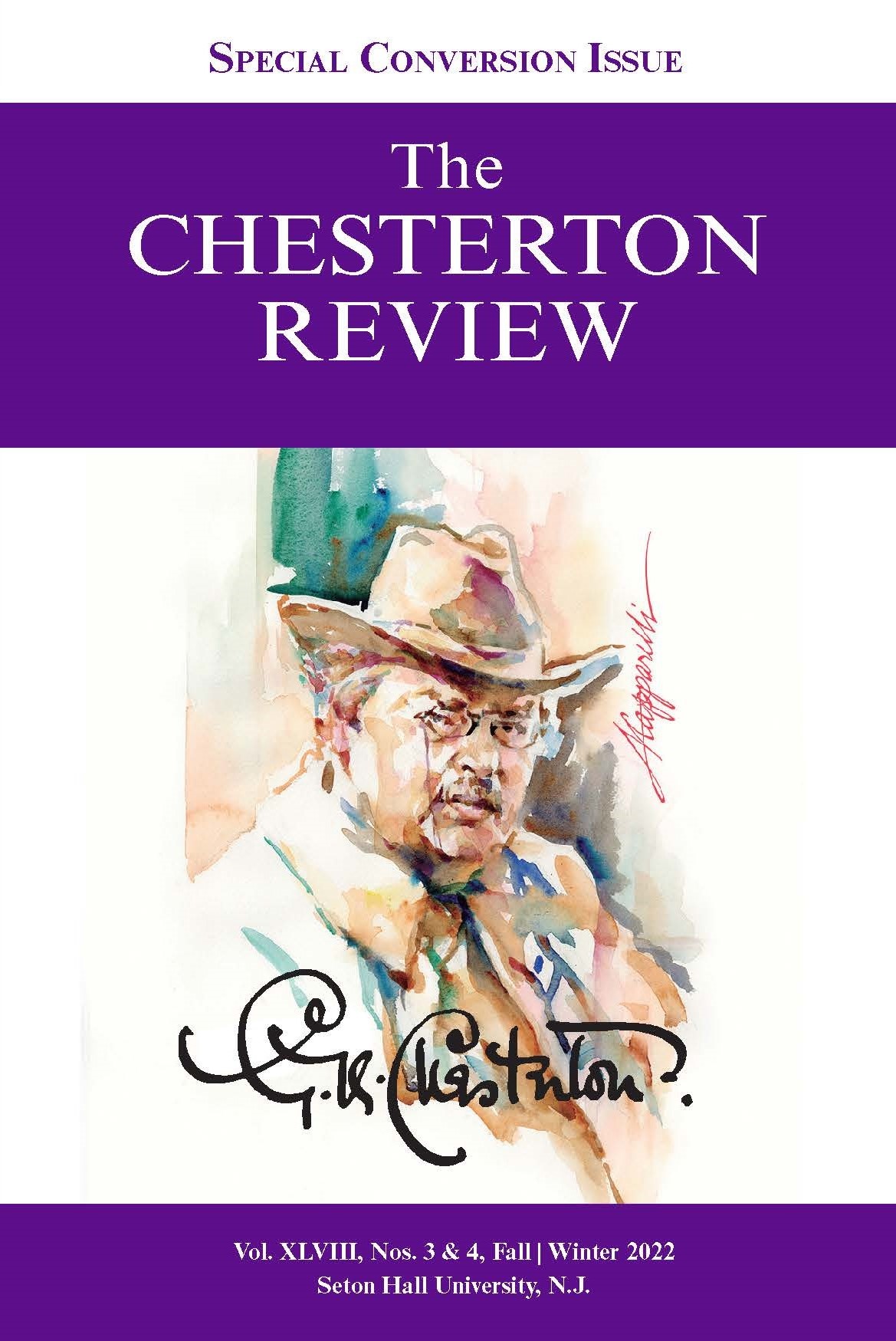 The Chesterton Review, founded in 1974, is the quarterly journal of the G.K. Chesterton Institute for Faith & Culture and has been widely praised for both its scholarship and the quality of its writing. It was founded to promote an interest in all aspects of Chesterton's life, work, art and ideas, including his Christian apologetics. The Review is published twice annually (two double issues). As the Chesterton revival grown around the world, The Chesterton Review has responded by publishing annual foreign language editions in Spanish, French, Portuguese and Italian.
Philip Jenkins, Editor of Chronicles magazine writes: "There is really nothing like The Chesterton Review, and if there ever was, it existed in a bygone Golden Age of journals and magazines. They, however, are all dead. The Review abides." — Chronicles, June 2014
To read the full article, click here »
To download the full Index of Contents of The Chesterton Review, click here »
Press Releases – 2012 to June 2023
Announcement: Publication of the new issue of The Chesterton Review
Vol. 49, nos. 1 & 2, Spring Summer 2023
Read the News Story
As interest in Chesterton grows around the world, with the re-publication of his Collected Works and their discovery by a new generation of avid Christian reader, The Chesterton Review is growing too. Why not read a sample issue, or subscribe for a trial year, and discover the "prophet of sanity" for a mad world?
Further details about the journal, including subscription information are available from Philosophy Documentation Center and to order a subscription or back issues:
Paul Johnson states that:
G.K. Chesterton was one of the most stimulating and enlightening writers of the twentieth century, and The Chesterton Review keep his memory and message alive in powerful fashion. I recommend it to anyone who believes in God - or would like to.

Robert P. George, McCormack Professor of Politics at Princeton University, describes it in this way:
Serious and lively, scholarly and popular, ecumenical and artisan, it is a rebuke of those who suppose that serious writing cannot be fun to read, or that an orthodox viewpoint must be a narrow one.
Joseph Pearce says:
The Chesterton Review is a bastion of truth . . . the great Chesterton would not only approve but would raise a glass in its honour.
Sheridan Gilley, author of a widely acclaimed biography of Newman, concurs:
The Chesterton Review is an expertly and attractively produced journal which achieves the difficult task of bridging the gap between an informed and intellectually sophisticated lay readership and the more specialized audiences of academia. In the modern world it is unusual to be both scholarly and readable, and it is a mark of The Chesterton Review that it is both, with contributions from distinguished scholars as well as from other citizens of the republic of letters. It plays an invaluable part in illuminating Chesterton's life and work, but beyond that, it also makes a significant contribution to a deeper understanding of the literary, philosophical and religious worlds of his time and place.
Author and critic Garry Wills writes:
In every issue of The Chesterton Review there is something to surprise and delight.
Joseph Sobran, a syndicated columnist, writes:
It is strange how seldom a literary journal is actually a good read. What makes The Chesterton Review so readable is not only its fresh writing, but its genius for bringing to vivid life a whole age of modern prophets - memorable men we seem destined to forget. Of these, Chesterton himself remains the greatest and most delightful. His wit has proved more durable than the mighty forces and fashionable ideas of his time.
British novelist Barbara Lucas Wall has described it as:
One of the best quarterly reviews - if not the best - currently in existence.
John Wren-Lewis, a mathematical physicist of the University of Sydney, Australia, and of M.I.T., U.S.A., writes:
The Chesterton Review is a far more important journal than its name might suggest to the undiscerning eye. It is concerned not just with the enormously wide-ranging and prescient work of G.K. Chesterton himself, but with the whole tradition of social, socio-economic, ecological, historical, philosophical and theological critique which he exemplified, a critique far more needed today, and on a global scale, than it was in the first part of the century when he made his unique mark in English literature, historiography and journalism. The Review fosters and promotes the continuance of that tradition . . . all this is done with a high editorial regard for quality and scholarship which (again true to Chesterton) never degenerates into narrowness and obscurity, and is printed with an elegance which is astonishing considering the journal's affordability. As a result, it now enjoys an established reputation worldwide. It deserves to flourish in the new millennium, and the need for it is unlikely to decrease in the foreseeable future.
---
Editorial Team

Ian Boyd, C.S.B., Founding Editor
A Canadian priest and an internationally recognized Chesterton scholar, Ian Boyd is the author of The Novels of G.K. Chesterton (London 1975). For many years he was professor of English at St. Thomas More College, University of Saskatchewan. Currently he is a member of the Department of English at Seton Hall University in South Orange, New Jersey. Father Boyd lectures on the subject of "Sacramental Themes in Modern Literature." Among Christian authors whose work he discusses are T.S. Eliot, Graham Greene, C.S. Lewis, Flannery O'Connor, Piers Paul Read, Muriel Spark and Evelyn Waugh. In nineteenth-century literature, he is interested in the work of such authors as Charles Dickens, Anthony Trollope and Nathaniel Hawthorne. Father Boyd is the founder and editor emeritus of The Chesterton Review and the Founder of the G.K. Chesterton Institute for Faith & Culture based at Seton Hall University.
Dermot Quinn, D.Phil., Editor, The Chesterton Review
Dermot Quinn is a professor of History at Seton Hall University and the editor of The Chesterton Review. He was educated at Trinity College, Dublin and New College, Oxford, where he was awarded a doctorate in 1986. He has written extensively on Chestertonian themes, has authored four books, The Irish in New Jersey: Four Centuries of American Life (Rutgers University Press, 2004; winner, New Jersey Studies Academic Alliance, Non-fiction Book of the Year, 2005); Patronage and Piety: The Politics of English Roman Catholicism, 1850-1900 (Stanford University Press/Macmillan, 1993), Understanding Northern Ireland (Baseline Books, Manchester, UK, 1993), Seton Hall University—a History 1856-2006 (Rutgers, 2023), and many articles and reviews in the field of British and Irish history.

Daniel Callam, C.S.B., Assistant Editor
Daniel Callam, C.S.B., Assistant Editor is a priest of the Congregation of St. Basil. Graduated from the University of Toronto with a honors B.A. in mathematics and physics, and later received an M.A. in mathematics from Wayne State University in Detroit, Michigan. He studied for the priesthood at Saint Basil's Seminary in Toronto, obtaining an M.A. in theology at the time of his ordination. He received a D.Phil. in Theology from Oxford University. For twenty years he was an associate professor of religious studies at the University of Saskatchewan, before moving to the University of Saint Thomas in Houston, where he taught theology and also served as chaplain of the University. For fifteen years he edited The Canadian Catholic Review. He is the author of A Catholic Goes to the Movies (Justin Press, 2017)
Gloria Garafulich-Grabois, Managing Editor
Gloria Garafulich-Grabois is the director of the G. K. Chesterton Institute for Faith & Culture and the Managing Editor of The Chesterton Review and The Lonergan Review. In 2013, she designed and presented the exhibit "Chesterton and Freedom" in New York; was curator of the exhibit "Chesterton's Home" at the 2013 Rimini Meeting and consultant to the stage productions of Manalive (Italy, 2013), The Ballad of the White Horse (Italy, 2011) and Liberi Tutti!, based on G. K. Chesterton's play "The Surprise" (Italy 2022) which was also produced as a movie. Mrs. Garafulich-Grabois is a member of the Executive Board of the Croatian Academy of America; and co-editor of the special bilingual edition of Gabriela Mistral: From Chile to the World (New York, 2015). She is a native of Chile and a citizen of the United States and Croatia. In 2018 the Government of Chile awarded her the grade of Dame of the Order of Educational and Cultural Merit Gabriela Mistral, and in 2021, she was created Dame of the Equestrian Order of the Holy Sepulcher of Jerusalem.
Editorial Board

Nancy Enright
Seton Hall University (New Jersey)
Bill Kauffman
Author
David Fagerberg
University of Notre Dame (Indiana)
Karl Schmude
Fellow, Campion College
Syndey, Australia
Gregory P. Floyd
Seton Hall University (New Jersey)
Daniel Strait
Asbury University (Kentucky)
Jorge E. Iglesias
Lone Star College (Texas)
Thomas Storck
Author
Editorial Advisory Board

William F. Blissett
University of Toronto (Canada)
Race Mathews
Former Research Fellow
Monash University (Australia)
Own Dudley Edwards
University of Edinburgh (Scotland)
David Mills
Author
Sheridan Gilley
University of Durham (England)
Ewa Thompson
Rice University (Texas)
Philip Jenkins
Baylor University (Texas)
Editorial Office
400 South Orange Avenue, South Orange, NJ 07079
Email: [email protected]
Phone: (973) 275-2431
Website: www.shu.edu/chesterton