The Pirate's Closet
The Pirate's Closet is an invaluable resource for students seeking to enhance their professional image and gain a competitive edge in the job market. The closet offers students access to a variety of professional attire, ranging from business suits to interview-appropriate attire, at no cost. This is particularly beneficial for students who may not have the financial means to purchase new interview attire.
Utilizing The Pirate's Closet can help students present themselves confidently and make a positive first impression during job interviews and networking events. Additionally, the Career Center offers workshops and resources to help students understand the significance of dressing appropriately in professional settings and the impact it can have on their career success.
All Seton Hall students, regardless of their major or career aspirations, can benefit from taking advantage of The Pirate's Closet and the services offered by the Career Center to reach their career goals.
Interested in visiting the Pirate's Closet? We recommend making a reservation to avoid the line!
Support the closet! Donations help us keep it stocked with merchandise and any necessary items.
Pirate's Closet in the Press
J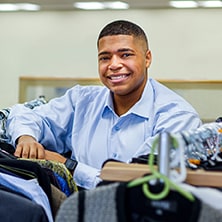 ason Santos, a junior in the Stillman School of Business and founder of The Pirate's Closet, was recently featured in the latest issue of Seton Hall Magazine.
Hours of Operation
The Pirate's Closet is open from Wednesday through Friday, 10:00 am to 4:00 pm. Reservations Only.
Please note that on Mondays and Tuesdays, we are closed while Division of Volunteer Efforts (DOVE) team members organize, restock, and manage inventory control.
Contact the Closet
For more information about the Pirate's Closet, please contact:
Jorge E. Rivera
Career Center Director
[email protected]