Wednesday, March 31, 2021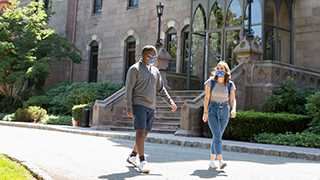 On April 20-21, the global Setonian family will come together as one community for the biggest day of giving during the year, Seton Hall Giving Day! Alumni, students, parents, faculty, administrators, friends, and the Priest community will participate in this important initiative which serves as a call to action to unite Pirates both locally and around the world.
First launched in 2018, Seton Hall Giving Day's impact has increased over the years, garnering record-breaking success since its inception. This year, Seton Hall aims to rally around its top priority, its students, while celebrating its legacy, fostering community, and pushing forward to strengthen the University's future.
All Pirates are being encouraged to help Seton Hall achieve its goal of 2,000 donors. Gifts of any size provide current and future students with resources that work to enhance their student experience and provide them with opportunities that make it possible for them to continue in pursuit of their dreams and passions. No matter the amount, support to any area of campus contributes to Seton Hall's growth and makes a difference in students' lives.
As the campaign unfolds, Pirates can bring Seton Hall into their homes and stay connected by tuning into streamed video messages from President Nyre, Pirate Blue, the Law School, faculty and staff, students, and other members of the campus community. Every year Setonians join in on this powerful display of Pirate Pride with a significant outpouring of support to honor our students, spread the word, and share in fun challenges throughout the day that remind everyone that they are stronger together.
The University strives to make this year's giving day the biggest celebration yet, aiming to provide significant support and resources to deserving Seton Hall students. Join the Department of Alumni Engagement and Philanthropy, Seton Hall Athletics, and Seton Hall Law in this collaborative effort as one of the thousands of Pirates to stand with Seton Hall again on this day! To get a head start on making a gift to the area that inspires you the most, click here.
Categories: Alumni