Uwill Teletherapy Tool: A Valuable Resource for College Students' Mental Health
Friday, September 15th, 2023
In an era where the mental health of college students has become an increasingly critical concern, Counseling & Psychological Services (CAPS) now offers a free teletherapy tool called Uwill as a valuable resource for Seton Hall students seeking support. Uwill, a cutting-edge platform developed to provide accessible mental health care, is quickly gaining popularity among universities and colleges across the country.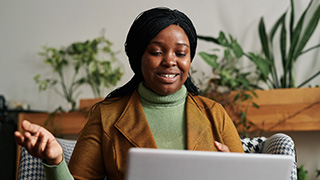 The college experience, while exciting and transformative, often comes with an array of challenges that can take a toll on students' mental health. From academic pressures to social anxieties and the transition to independent living, college students frequently find themselves grappling with stressors that can lead to anxiety, depression, and other mental health issues.
According to data from the 2023 Healthy Minds Survey, 41% of college students reported symptoms of depression and 36% experienced anxiety. These alarming statistics underscore the pressing need for accessible mental health support on campuses.
To support the large number of students that are struggling, CAPS has partnered with Uwill. Uwill is a teletherapy tool designed specifically to address the unique mental health needs of college students by offering a range of mental health services, including individual counseling sessions, and educational resources, all accessible through a user-friendly mobile app or web interface.
"We are excited about the partnership with Uwill that will expand our ability to meet student demand and significantly reduce barriers to help-seeking that otherwise might prevent students from getting the support they need," said Dianne Aguero-Trotter, Director of Counseling and Psychological Services at Seton Hall University.
One of Uwill's key advantages is its accessibility. It is completely free for students at Seton Hall University, eliminating a major barrier that often prevents young adults from seeking the help they need. Moreover, students may pick a time that best fits their schedule, ensuring that students can access support at any time, even in the middle of the night or during busy exam periods.
Using Uwill is a straightforward process. Students can create an account using their university email address, which ensures they are connected with counselors who understand the unique challenges they may face during their academic journey. Once registered, students can schedule appointments with licensed therapists based upon their preferences.
Through Uwill's intuitive interface, students can also access a wealth of educational resources on mental health topics, helping them build coping skills and resilience. The platform promotes a sense of community by allowing students to connect with peers facing similar challenges and share their experiences through moderated forums.
"Supporting our students mental health and well-being is extremely important to all of us at Seton Hall," said Karen Van Norman, Associate Vice President & Dean of Students at Seton Hall University "By expanding our services through this partnership with Uwill we know that we will be able to assist even more students."
Recognizing the importance of supporting our students in Mind, Heart & Spirit, Seton Hall University is actively promoting Uwill as a valuable resource for students mental health. Counseling & Psychological Services strives to provide students with as many tools as possible and Uwill offers an effective way to bridge a gap and provide students with timely support.
Seton Hall University has integrated Uwill into their existing mental health services offered by Counseling and Psychological Services, making it a seamless part of their support network.
Categories: Health and Medicine