Seton Hall Welcomes Top DEI Executive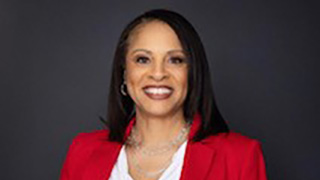 Celeste Warren, Vice President of the Global Diversity and Inclusion Center of Excellence at Merck.
On Friday, March 3, Seton Hall University welcomed Celeste Warren, Vice President of the Global Diversity and Inclusion Center of Excellence at Merck, to discuss her new book, How to Be a Diversity and Inclusion Ambassador: Everyone's Role in Helping All Feel Accepted, Engaged, and Valued (Berrett-Koehler Publishers, August 30, 2022). Approximately 80 community members, including faculty, administrators, and students, attended the session in the Chancellor's Suite of the University Center. The Diversity, Equity & Inclusion Committee, Student Services, and the Office of the Provost coordinated the session.
Since 1997, Ms. Warren's role has focused on working with Merck's global leaders to advance and embed diversity and inclusion throughout the organization to enhance the employee experience and maximize business performance.
She has been recognized for her work in diversity, equity, and inclusion, including:
Black Enterprise's "Top Executives in Global Diversity and Inclusion"
Savoy Magazine's "Most Influential Women in Corporate America"
Diversity Global Magazine's "Influential Women in Global Diversity"
Diversity Woman Magazine's "Elite100" List
She serves on the boards of RWJBarnabas Health Systems and Paradigm for Parity. She is also a CNBC's Workforce Executive Council member and World 50's Inclusion and Diversity Impact Community. Celeste attended the University of Kentucky, where she earned her B.S. degree. She received her master's degree from Carnegie Mellon University.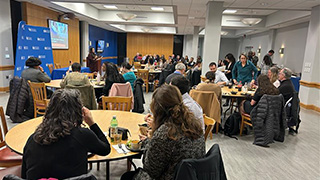 How to be a Diversity & Inclusion Ambassador Session in Chancellor's Suite
During the lunch and learn session, Ms. Warren shared the importance of diversity, equity, and inclusion from an organizational point of view. She noted, "the workforce of the future is going to [continue to] increase in diversity globally. Each generation is more diverse, more interconnected, and more blended culturally than any generation before it."
Warren explained the key is fostering and empowering diversity and inclusion ambassadors who act as a "representative or promoter of diversity and inclusion within the organization." She shared, "whether you're a senior leader, a middle manager, or an entry-level employee, all of us are critical to any strategy for driving a diverse and inclusive culture – we all play our own role in creating the culture they would like to see in their workplace." Warren explained the framework of her three-part model, where ambassadors can focus on self-reflection, assessment, and action.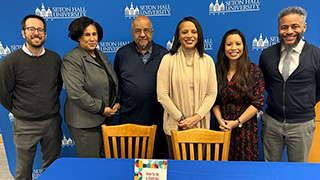 Members of DEI Committee and Celeste Warren.
Warren also shared how focusing on diversity, equity, and inclusion benefits an organization by building a strong culture, "a diverse and inclusive workplace leads to employees feeling accepted and valued, which has a ripple effect in creating happier employees who want to stay at the [organization] longer."
Following Ms. Warren's presentation, the audience participated in a question-and-answer session. Participants also received a copy of Ms. Warren's book.
For more information, contact the Diversity, Equity & Inclusion Committee at [email protected] or visit the DEI website for more events, programs, training, and resources.
Categories: Campus Life