Inspiring Our Students to Make an IMPACT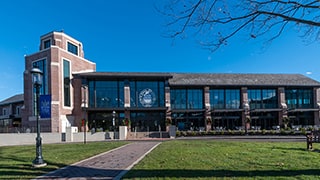 On March 25th, the Office of Student Engagement partnered with student leaders to host the Inspiration to IMPACT Student Leadership Conference. The annual conference is meant to inspire action by empowering our student community to make an IMPACT here at Seton Hall and beyond! This year's conference featured talks from notable SHU students and administrators on the topic of belonging and inclusivity.
A group of eight student leaders worked with administrators in the Office of Student Engagement to plan and execute the conference. They assisted in selecting the conference speakers, marketing and advertising the event, and coordinating day of logistics.
The half-day conference kicked off with a welcome by Dean Winston Roberts, Associate Vice President of Student Services, which highlighted the importance of belonging on campus. Elizabeth Halpin, Associate Dean of the School of Diplomacy and International Relations was the first speaker of the morning. Her talk centered around inclusive leadership and she highlighted various steps that students to take to become allies and advocates of inclusivity and belonging.
Taiyonna Fitzgerald, freshman Martin Luther King Jr. Scholar double majoring in Psychology and Philosophy and double minoring in Legal Studies and Political Science, was the first of two student speakers at the conference. She shared her personal story about dealing with mental health and spoke on the importance of mental health in leadership.
Monica Burnette, Ph.D., Vice President of the Division of Student Services, spoke about the importance of belonging at an organizational level. Focusing on how to support belonging when leading an organization, Burnette shared how she uses the guiding principles of vision and planning, listening and support, and optimism and positivity in her work across the division.
The second student speaker, Blake Harrsch, senior English Honors and Philosophy double major and minor in Creative Writing, spoke about servant leadership and how mindfulness can empower servant leaders.
The conference concluded with remarks from Breeze Galindo, Lead Brewer for Other Half Brewing in Brooklyn and Board Member for the Michael J. Jackson Foundation. Breeze shared her experiences of being a woman in the male dominated brewing industry and how she came to be the lead brewer at one of the top ten breweries in the United States before sharing her advice for the audience.
The conference, initially scheduled to be in person, was moved to a virtual format but still saw a great turnout over Microsoft Teams Live. Hopes are that the conference will return to an in-person format next year with added opportunities for networking and learning for students.
If you missed the conference and would like to hear from the many speakers at the conference, a recording of the event will be posted to the Inspiration to IMPACT webpage in the coming weeks.
Categories: Campus Life, Education