CAPS Announces New Grant to Expand Services
Wednesday, May 31st, 2023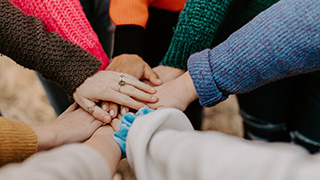 Counseling and Psychological Services (CAPS) has been awarded over $388,000 from the State of New Jersey through the Mental Health in Higher Education: Community Provider Partnerships Grant. The grant is part of Governor Phil Murphy's commitment to providing mental health services on New Jersey's campuses.
The majority of the funds, $366,000, will be used over two years to embed Counseling interns in three key areas on campus – R.I.S.E./1st Gen, Disability Support Services, and Varsity Athletics. "The practice of embedding counselors is known to increase access and break down stereotypes and barriers to care," said Dianne Aguero-Trotter, Ph.D., Director of Counseling and Psychological Services. "We are grateful for these funds to be able to expand services to more students."
The remaining funds will be used to build multicultural competencies and mental health awareness through workshops offered through the Office of Campus Inclusion and Community (OCIC) under the direction of Majid Whitney, Assistant Vice President and Dean for Campus Inclusion and Community. While workshops will be open to the entire campus, first-year advisers and key paraprofessional staff who play a key role in transitioning students to Seton Hall will be required to complete the program. "This grant allows us to expand into a new area of programming for the OCIC as our University becomes a more inclusive community for all," said Dean Whitney.
Students will see the benefits of this grant beginning in fall 2023.
Categories: Campus Life, Health and Medicine