Outcomes - B.S., Psychology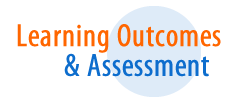 Seton Hall University embraces the principle that effective and meaningful assessment is an integral part of the educational process. This principle is at the heart of our commitment to meet our responsibilities to our students, professions, and the communities that we serve.
Goals and Outcomes Assessment for the Psychology Major
The American Psychological Association (APA) identified 5 categories of goals and several outcomes for the undergraduate psychology major. Goals are general statements about what the instructional program intends for psychology majors to achieve. Outcomes are what students are able to demonstrate upon completing their program of study. The Psychology Department at Seton Hall adopted the APA recommendations to assess student outcomes.
There are 5 broad goals of the Psychology major, each goal identifying what the program of instruction intends to accomplish.
Goal 1: Knowledge Base of Psychology
Goal 2: Scientific Inquiry and Critical Thinking
Goal 3: Ethical and Social Responsibility in a Diverse World
Goal 4: Communication
Goal 5: Professional Development
Outcomes describe what learning students have achieved and can demonstrate in specific types of performances. Graduating Psychology majors will be able to
:
1.1 Describe key concepts, principles, and overarching themes in psychology
1.2 Develop a working knowledge of psychology's content domains
1.3 Describe applications of psychology
2.1 Use scientific reasoning to interpret psychological phenomena
2.2 Demonstrate psychology information literacy
2.3 Engage in innovative and integrative thinking and problem solving
2.4 Interpret, design, and conduct basic psychological research
2.5 Incorporate sociocultural factors in scientific inquiry
3.1 Apply ethical standards to evaluate psychological science and practice
3.2 Build and enhance interpersonal relationships
3.3 Adopt values that build community at local, national, and global levels
4.1 Demonstrate effective writing for different purposes
4.2 Exhibit effective presentation skills for different purposes
4.3 Interact effectively with others
5.1 Apply psychological content and skills to career goals
5.2 Exhibit self-efficacy and self-regulation
5.3 Refine project-management skills
5.4 Enhance teamwork capacity
5.5 Develop meaningful professional direction for life after graduation
Note: These goals are taken verbatim from the American Psychological Association Guidelines for the Undergraduate Psychology Major (2013,
http://www.apa.org/ed/precollege/about/psymajor-guidelines.pdf
)