Health Professions Expo
Thursday, October 5, 2023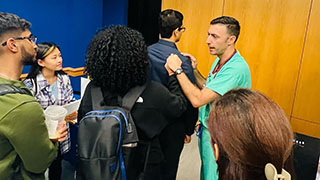 On September 28, 2023, dozens of health care professionals and nearly 200 aspiring pre-health students gathered in the Chancellor's suite for Seton Hall University's Health Professions Expo. Following a successful first Health Professions Expo from last year, the Pre-Professional Advising Center, the Career Center, the School of Health and Medical Sciences, and the College of Nursing invited many of last year's professionals, as well as brought in many new faces. The event was crafted to encourage students to explore different health professions and to facilitate an opportunity for networking.
The Health Professions Expo allowed a diverse group of Seton Hall's pre-health community to network with health care professionals. Networking is incredibly important as it leads to the possibilities of mentorships, internships, shadowing, research, and clinical experiences that are all crucial for the development of our future healthcare professionals. To prepare for the event, the Pre-Professional Advising Center (P-PAC) hosted a Health Professions Huddle focused on Networking Tips on 9/27 to help students learn the importance of networking, as well as how to do it effectively. The huddle helped students practice their networking skills for the wide variety of health professionals present at the Health Professionals Expo.
The professionals who contributed to the Health Professions Expo represented every corner of the healthcare community. Students had the opportunity to meet different health care professionals, ask questions about their journey in the profession, and learn more about their day-to-day responsi
bilities. There were physicians, medical students, Physical Therapists, Physician Assistants, Healthcare Administrators, Army Medics, Occupational Therapists, Optometrists, the South Orange Rescue Squad, and more! With seemingly constant conversation between the students and health professionals, this year's health expo facilitated a lot of connections and potential opportunities for both the students and the healthcare experts.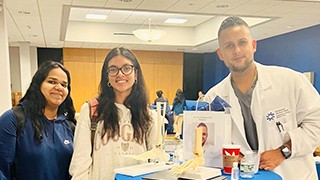 Hunter Wachenheim, a pre-med sophomore who had the opportunity to connect with the representatives of Jag One therapy said, "My goal has always been to go to medical school and become a physician but speaking with the variety of healthcare professionals at the Health Professions Expo, particularly Jag One Physical Therapy, I have opened my mind to new possibilities. I am looking forward to connecting with them and hopefully shadowing one of their physical therapists to explore all the opportunities I have."
Abdulrahman Abduallah, a junior planning to apply to medical school, attended the Health Professions Expo to connect with health professionals, as well as find opportunities to bolster his application. Abdulrahman said, "The Health Professions Expo was a chance to meet many healthcare professionals and get to learn about many volunteer and shadowing opportunities all in one place …It also gave me the opportunity to explore other healthcare fields."
With two hours of nonstop conversation, delicious food, and smiling faces, this year's Health Professions Expo was a great success. With our wonderful guest professionals, students left with invaluable insight and connections into their future health career.
We are very grateful for all the healthcare professionals that joined the Expo and took time to network with our pre-health students exploring the health professions.
The event was hosted by:
The Pre-Professional Advising Center , The Career Center , School of Health and Medical Sciences: and the College of Nursing
Together we are here to support our future healthcare professionals throughout their journey!
Categories: Health and Medicine