Syrian Emergency Task Force to Speak at SHU
Thursday, October 21st, 2021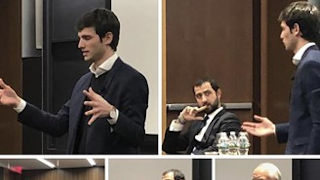 SETF at Princeton University, 2019.
From 7:00 – 8:30 p.m. on Thursday, October 28 in Jubilee Hall Auditorium, the Syria Emergency Task Force will speak at Seton Hall University. Speakers include Mouaz Moustafa, Executive Director of SETF; Ambassador Stephen Rapp, Office of Global Justice and representative of the Center for the Prevention of Genocide at the US Holocaust Memorial Museum; and Omar Alshogre and Qutaiba Idlibi, former detainees in the Assad regime's prisons. Deborah Amos, award-winning NPR correspondent and Professor of Journalism in Residence at Princeton, will moderate the discussion.
Leading up to the discussion, from October 26 – 28 from 9 – 5 in JH 132 an exhibit entitled "Caesar's Photos: Inside Syria's Secret Prisons" will display photos of detainees from Syrian regime prisons. The Caesar Exhibit shows the brutality Syrians continue to suffer at the hands of the Assad regime and includes some of the 55,000 images taken by Syrian military police between 2011 and 2013 who were tasked with photographing the bodies of people killed in Syrian detention centers.
One such photographer, code-name "Caesar," defected and fled Syria with these photographs to shed light on the crimes against humanity the Assad regime is committing. Upon thorough analysis by a legal and forensic team and authenticated by the FBI, the photos Caesar smuggled out of Syria have documented at least 11,000 deaths under detainment.
This March, the Syrian conflict entered its 11th year. The violence has cost the lives of more than 500,000 Syrian civilians, displaced over 12 million people—over half the population—triggered the world's largest humanitarian crisis since World War II, and continues to result in widespread atrocities and crimes against humanity to this day.
This talk is being sponsored by the College of Arts and Sciences, the Office of the Provost, the School of Diplomacy and International Relations, the History Department, the English Department, the Languages, Literatures, and Cultures Department, and the Middle Eastern Studies Program.
Categories: Nation and World