Assistant Professor in the Department of Chemistry and Biochemistry, Dr. Joseph Badillo, demonstrates an unparalleled standard of excellence. A standard evident through being awarded a $20,000 grant from the Sloan Scholars Mentoring (SSMN) Network and a $219,797 grant from the NSF Launching Early-Career Academic Pathways in the Mathematical and Physical Sciences (LEAPS-MPS) program. Dr. Joseph Badillo is not only a catalytic figure in his field and at Seton Hall University, but he is also a proud and influential representative of the Hispanic/Latinx community.
Dr. Badillo received his B.S. in Chemistry from California State University, Long Beach, in 2008, where he worked with Professor Paul Buonora. He then earned his Ph.D. from the University of California, Davis in 2014, working in asymmetric catalysis with Professor Annaliese Franz. After which, he undertook a post-doctoral research position with 2021 Nobel Laureate Professor. David MacMillan at Princeton University before joining the faculty at Seton Hall University in 2017. Currently, his work includes synthesizing and studying a variety of second-generation materials that absorb light with higher levels of efficiency. In the long term, he and his lab hope to develop a whole new class of photocatalyzed reactions, that could be important for the synthesis of next-generation pharmaceuticals and materials. 
The Alfred P. Sloan Foundation's Sloan Scholars Mentoring (SSMN) Network grant provides start-up funds for new research and supports research expenses, including equipment, supplies, and student salary. "Funding from the SSMN enables us to study new chemistry and helps to support both undergraduate and graduate student researchers at SHU," said Dr. Badillo. He and his lab's award-winning research grant proposal includes using visible light to activate catalysts to synthesize biologically relevant molecules used in the pharmaceutical, fragrance, and agricultural industries.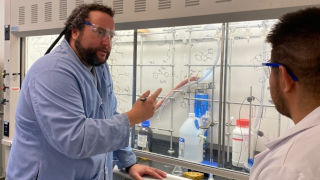 Professor Joseph Badillo (Left) with graduate student Jason Saway (right).
Dr. Badillo continually displays a deep passion to challenge and push the boundaries of knowledge in the STEM field. It is genuine nature to prioritize collaboration, serve in a mentor role, and continually instill a sense of encouragement in his students to optimize their potential, which appears to be making the biggest impact. Shreya Rawat, a student in his lab, shared, "I feel as though the Badillo Lab is a big family. We all truly appreciate everything he does for us." While his knowledge of the field leads him to be a valued teacher, perhaps, his most significant contribution can be seen in his role as a mentor. With the support of the Sloan Foundation, Dr. Badillo participated in the Southern Regional Educational Board (SREB) Institute on Teaching and Mentoring and in the SSMN Faculty Boot Camp. He credits these programs with helping him to become a better teacher and mentor. His continual optimism about meeting any challenge with a sense of perseverance and enrichment of ideas appears to be a quality that his students recognize the most.
Rawat continued, "I find him to be one of the brightest individuals I have met. He is a strong leader and a knowledgeable mentor who has helped me become a much more competent researcher. Dr. Badillo is never disheartened despite having to confront many challenges and obstacles in our research. Whenever we are unable to obtain the results we seek, Dr. Badillo is always able to develop unique approaches to solving our problems. His optimism and perseverance always provide our team with a sense of comfort that encourages us to continue making progress. He always maintains a light-hearted environment within our lab…We all truly appreciate everything he does for us."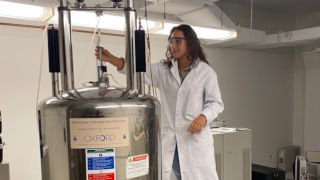 Badillo Lab undergraduate researcher Andrea Serrano Trujillo, B.S. Chemistry 2022 running NMR analysis in the Science and Technology Center.
As a proud representative of the Hispanic/Latinx community, broadening the field through diversity and opportunity is a core characteristic underlying Dr. Badillo's unyielding drive. The NSF Launching Early-Career Academic Pathways in the Mathematical and Physical Sciences (LEAPS-MPS) grant helps launch the careers of pre-tenured faculty in Mathematical and Physical Sciences (MPS) fields at Carnegie Research 2 (R2) and minority-serving institutions (MSIs). The LEAPS-MPS grant provides funding for faculty members in STEM fields seeking to promote and achieve excellence through diversity and broadening participation to include members from underrepresented groups including Blacks and African Americans, Hispanics, Native Americans, Alaska Natives, Native Hawaiians and other Pacific Islanders.
"Having my research program recognized by the NSF is a big deal for us, and I am honored to be in this inaugural group of LEAPS-MPS awardees. I don't have the numbers on this, but my guess is the number of Latino faculty that get these awards is small, something we need to change!" said Dr. Badillo. Additionally, he noted, "I have spent a good chunk of my career working to increase the representation of Latinos in STEM fields. Many of the students I have mentored have gone on to work in industry and/or receive Ph.D.'s or high-level post-doctoral positions."
According to Dr. Badillo, the LEAPS-MPS fund allows him to provide significant financial support for his students, giving them access to materials and supplies that would otherwise not been available to them. Furthermore, the grant offers his students the opportunity to gain experience in research at the highest level. When asked about what the LEAPS- MPS fund means to him, Dr. Badillo noted, "Students in my lab will be co-authors on publications that will help them get to the next step in their careers. Students from my lab go on to graduate or medical school, get jobs in the chemical industry, or work for the government. As part of the broader impacts, our students are participating in various outreach activities such as bringing STEM education to local minority-serving high schools and presenting their research at URM-serving conferences such as NOBCChE, ADSE, and SACNAS."
The significance of the grant cannot be understated. According to Dr. Badillo, "Research, especially cutting-edge research, can be expensive. Support from the NSF allows us to get the things we need to do the work. We can ask the big questions and pursue the answers." However, this also applies to the influence and changes he is making in diversifying the field, more specifically, big questions about underrepresented populations in the STEM field being answered in equally significant ways.
This change began to occur before being awarded both grants. It began within his lab and with his students, fostered by being a visual representation from the Hispanic/Latinx community and broadening possibility. "Because I began my studies here at Seton Hall as a community college transfer student, I felt intimidated by the advanced instruments and possibilities of research" said Andrea Serrano Trujillo, a student in Dr. Badillo's lab. "Dr. Badillo assured that I could do it by explaining to me how he also transferred from community college at the beginning of his academic career. To see how far he has come gives me hope knowing we started the same. In addition, it has been a rarity for me to see Latinx representation in the science field in my four years of higher education. Thus, having Dr. Badillo as my mentor is another aspect that motivates me as a Latina chemistry major. Overall, Dr. Badillo is a great leader that believes in his students and is a great role model for the Latinx community."
The grants awarded to Dr. Badillo are unquestionably tremendous achievements in their own right. However, the impact he has had on his students, the change he has fostered, and the impression he has delivered through being a substantial representation of the Hispanic/Latinx community are incalculable. The most symbolic aspect of Dr. Badillo's achievements is the fact that they are not for him. The grants are for his students, community, and to make sure both have the opportunity to maximize their potential in the STEM field. "Students in my lab work hard; they come in on weekends, work late nights, and early mornings… The work we do would be impossible if it weren't for my dedicated group of graduate and undergraduate students. It is working with them and seeing them succeed that drives me," said Dr. Badillo. "Now, with the support of the NSF LEAPS-MPS, anything is possible!" Although the argument can be made, the grants do not compare to the broadened scope of possibility he created for his students simply by being himself.
Categories: Arts and Culture , Science and Technology