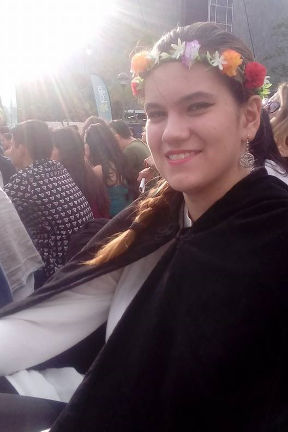 A junior pursuing a major in Broadcasting & Film and minor in Asian Studies, Angie Loveday represents the Joseph A. Unanue Latino's Social Media and Communications Team.
She was born and raised in San Jose, Costa Rica yet had family all over the world to help foster her appreciation and understanding for diverse cultures.
At Seton Hall, Angie's passion for digital media and work ethic shines through her active participation in the K-Pop Dance Team, National Society of Collegiate Scholars, and previous work with Pirate Radio 89.5 WSOU--which was ranked nationally as one of the top five college radio stations. Additionally, she enjoys dubbing anime music for a broader audience of non-Japanese speakers to enjoy and practices he language skills at the same time.
Angie initially discovered the Institute while looking for Latino organizations to take part in when she moved to the United States to attend Seton Hall. The Institute was also her first foray into the professional work environment, helping to enhance her writing skills and widen her network while also providing her with support to continue pursuing her studies at Seton Hall. Being an international student at Seton Hall, the Institute gave her a place where she could share her own culture.
"As an international student, it is sometimes difficult to find support and understanding at the university. Moving here, I had to adapt to a completely different lifestyle and culture while balancing my academics. I found in the Institute a place where I could connect with others that had somewhat similar background to me and help me along with the transition I was going through."
Angie is currently working with Sundance award winning documentary director Michael Rossato-Bennett as an Assistant Editor. Rossato-Bennett directed the 2014 masterpiece "Alive Inside" regarding the medicinal powers of music specifically on memory loss and depression. As a Latina woman, Angie feels there are many opportunities to learn from Rossato-Bennett's style and create powerful stories that will move others. When asked about film role models Angie said:
"Adrien Brody. His performance in "The Pianist" really moved me. With very few words throughout the entire film, he conveyed an impressive amount of emotions. I would like to be able to have such a powerful performance. From a filmmaker standpoint, I would like to make a film that can evoke such strong emotions from the viewers."
In the future, she seeks to combine her studies, time at the Latino Institute, and digital media skills to bring ideas that represent diversity in the film industry.
Categories: Arts and Culture