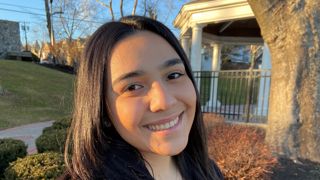 Amarilis Rodriguez, (Class of 2022), has a lifelong passion for serving others, especially those most in need of her care. Rodriguez, the recent recipient of both the 2021 Seton Hall and San Damiano Servant Leadership Awards, founded her nonprofit organization, Baskets for the Needy, as a high school student after a mission trip to Haiti. The awards are a testament to Rodriguez's faith and determination to carry out Jesus' mission.
"Passionate about serving others, I traveled on my first mission trip to Haiti when I was 16," Rodriguez explains. "There, I encountered Jesus in the poor and the hungry, who eat once a day and walk miles for one jug of water."
Rodriguez felt inspired to learn how she could make a difference in her own community, saying, "When I went back home to Perth Amboy, NJ, my eyes were suddenly opened, as I realized that I did not have to travel to another country to ensure that I was making a difference. In 2017, I began Baskets for the Needy, a nonprofit organization that works toward social justice by reducing hunger and food insecurity and improving healthcare."
At the heart of the organization is her dedication to help struggling families who are undergoing unfortunate circumstances. "I collected nonperishable foods and toiletries for families suffering from hunger, poverty, illness, domestic violence, homelessness, and unemployment," she explains. "Today, with the help of my community, schools, and donors, such as US Foods, USDA, Walmart, and Starbucks, we have given over 300 food baskets to families living in destitute areas."
The families have been provided not only with needed physical donations, but also with spiritual nourishment.
"The loving families I encounter enhance my desire to continue giving not only food and toiletries, but the well-needed love and support they deserve. Together, we feed families spiritually, as we become a source of hope, performing God's work in times of great distress and tragedy," Rodriguez reflects.
Her work continues to benefit families as well as Rodriguez herself. "Ultimately, service gives me purpose," she says. "It helps me understand that all people are created with equal dignity and should have access to everything that is necessary for living a genuinely human life: physical and spiritual food and nourishment."
If you are able to help a family in need, email Amarilis.Rodriguez@student.shu.edu today.
Categories: Education , Faith and Service