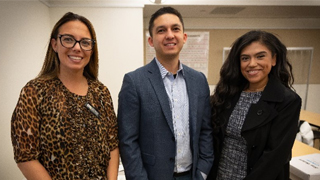 The Pre-Professional Advising Center hosted a Live Suture Clinic in collaboration with the Princeton Review and the United States Army this past week. The clinic provided students from all majors and prospective career paths with the opportunity to come together and participate in a hands-on experience to develop suturing skills. This event was the second event held in conjunction with the Princeton Review, the first being an MCAT Strategy Session. The Pre-Professional Advising Center was developed to support students throughout their exploration, preparation, and application phases of getting into a health professional school/program. This clinic is just one of the examples of the many exploratory workshops and resources the P-PAC provides to its students to assist with professional school readiness.
In this clinic, students were taught the importance of learning suture skills early as well as different suturing techniques. It is quite rare for undergraduate students to get such hands-on experience, and the P-PAC was excited to provide this opportunity to its students. Students learned the interrupted stitch which is commonly used to close wounds. They were also able to learn the stitch directly from an Army medic in front of them and then had the opportunity to do it themselves multiple times with direct feedback from the Army medics.
The Army medics provided students with suture kits that mimicked skin to give students an authentic experience. Students were also exposed to healthcare in the Army and the benefits they would receive if they chose this path. The U.S. Army is currently recruiting for a range of health professions such as doctors, nurses, and dieticians as well as providing scholarships. This was an opportunity for students to ask questions and to explore opportunities they may not have thought of before within the Army.
The Pre-Professional Advising Center will continue to provide its students with relevant and hands on experience to enhance their skills and is excited for all that's to come next semester. They are committed to the ideals of a collaborative community, personal experiential development and professional development.
Categories: Campus Life , Education , Health and Medicine