Law Professor Paula Franzese Named a Top Woman in Law by the New Jersey Law Journal
Tuesday, December 1st, 2020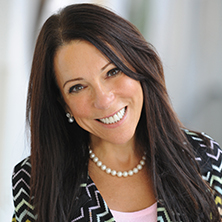 Law Professor Paula Franzese has been named one of the "Top Women in Law" by the New Jersey Law Journal. Considered "the statewide legal authority" of the New Jersey legal community, the New Jersey Law Journal has been published since 1878. The award, which was last bestowed in 2018, was through the submission of nomination letters and curricula vitae and the deliberation of a panel. The criteria was "impact." There are more than 75,000 lawyers in New Jersey; twenty women were honored.
Professor Franzese has long been lauded for her teaching. She has been named an "Exemplary Teacher" by the American Association of Higher Education and was featured as one of the 26 best law teachers in the nation in the book What the Best Law Teachers Do (Harvard University Press). Generations of lawyers cite her as their inspiration. And although she has spearheaded government ethics reform initiatives on behalf of two governors, she is primarily known as an educator for her work in property law, both at Seton Hall Law and for the largest U.S. bar preparation and legal exam company in the world, BarBri.
In recent years, however, Franzese has turned her attention to the growing housing crisis in America, advancing the cause of fair and affordable housing as a human right and publishing research that examined landlord/tenant practice under the current law in New Jersey.
Her article, "The Implied Warranty of Habitability Lives: Making Real the Promise of Landlord/Tenant Reform," was widely covered by media across the country, including the BBC, NPR's "All Things Considered," The Star Ledger (as both an article and an op-ed), NJTV, NJ 101.5, and the National Housing Institute's Roof Lines.
The article showed that tenants rarely used their rights to fight against landlords of substandard housing. The article also noted with some dismay that it may have discovered why so many aggrieved tenants were seemingly reluctant to assert their rights: "blacklisting."
The study found that tenants who fight back in court against landlords become essentially blacklisted by other landlords through their inclusion on lists that are circulated among landlords and property managers; and that even tenants who win their cases against landlords that are the subject of numerous housing code violations or have documented accusations of such violations, still wind up on these lists.
The study called upon New Jersey lawmakers to address these issues and to give tenants some much needed relief from nonresponsive landlords of substandard housing. They did.
New Jersey legislators took note – and introduced two new laws in New Jersey based upon Professor Franzese's report and its recommendations. State Senator and former New Jersey Governor, Richard J. Codey, a co-sponsor of the New Jersey legislation, said:
"Professor Franzese's research into landlord-tenant reform provides further insight into our country's long history of trying to fairly and equitably solve one of the most important and basic expectations that all our residents have – housing for their families. Professor Franzese's report and the recommendations that we have used to form the basis of the legislation I am sponsoring will directly impact the lives of residents in New Jersey and hopefully become a model elsewhere in the country."
Professor Franzese's work and the New Jersey state legislation did become a model— for federal legislation that would help protect the rights of tenants all across the United States. U.S. Senator Cory Booker has sponsored a bill that would address "the chilling effect" of landlord blacklisting practices.
In a feature article in the New Jersey Law Journal highlighting her as a Top Woman in the Law, Franzese, the Peter W. Rodino Professor of Law and director of the Leadership Fellows Program at Seton Hall University School of Law, was asked what she saw as her biggest accomplishments over the course of the last two years, and why? She responded:

There are two. The first: advancing the cause of fair and affordable housing as a human right. That mission has never been more urgent. COVID-19 is spawning an eviction, housing and homelessness crisis of unprecedented proportions, the effects of which are shouldered by low-income and minority communities. Newark's COVID-19 positivity rate reached 19% this week. The essential demands of social distancing are impossible for people with no choice but to live in cramped quarters, often doubling and tripling up for shelter. We can and must summon the collective will to do more and to do better on behalf of the many people left out of the promise of a safe place to call home.

I am inspired by the work that teams of brilliant public and private sector lawyers and housing advocates are doing on the front lines, using the powerful instrument of the law to do right and do good for underserved communities. I have been collaborating with some of those advocates to tell the stories of residents denied the dignity of habitable premises and the fundamental assurances of due process and equal protection.

James Baldwin presciently wrote, "Not everything that is faced can be changed; but nothing can be changed until it is faced." There is power and promise in this moment of national reckoning, as the burdens of our shared pain make plain that what we do for others, we do for ourselves. The second accomplishment is better framed as the immense privilege of being there for my beloved students, who have been enduring so much amidst the challenges of these fraught times. I am inspired by their virtue, resilience, and courage. We derive meaning in times of crisis by the work that we offer, the love that we give, and our capacity to persist in loving no matter the disappointments and sorrows. My students are Light-workers and hope givers. I am better because of them.
Read more at New Jersey Law Journal, "Top Women in Law: Paula Franzese".
Categories: Law