Educating the Next Generation of Public Officials and Community Advocates
Thursday, September 16th, 2021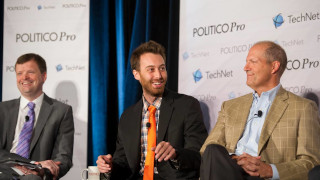 Photo credited to Stephen Voss
In today's highly politicized era, those with a commitment to inclusive public discourse, governance, and community advocacy may still feel that it is impossible to generate positive change. However, Seton Hall University adjunct professor and former South Orange Village President Alex Torpey believes that it is still possible to make a difference, especially in your local community. He has launched a new open discussion platform offering a free podcast/discussion series, Rethinking with Alex Torpey, to address the current partisan environment and share his knowledge with students, the next generation of leadership, and the general community.
Rethinking has enabled Torpey to harness the real-world public administration experiences he teaches Seton Hall graduate students in his Strategic Management for Collaborative Governance course, where he helps the next generation of public policy managers be more critical and intentional with how they approach identifying, planning and implementing large-scale change aimed at improving how public institutions function. But there are many challenges that tend to prevent this kind of advancement. One is the divisive nature of many discussions about any large-scale public issues.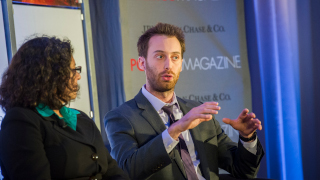 Photo credited to Stephen Voss
He explains, "We need to rise above partisanship. Leaving behind the boundaries, assumptions, and ideologies that currently are used by others to intentionally divide us, I hope to create a new space with 'Rethinking with Alex Torpey' where we can explore, experiment and discuss in the more evidence-based and inclusive ways that have brought significant advancement in various fields of scientific inquiry, but which we have yet to really apply to improve our political and civic spaces."
Rethinking with Alex Torpey, which is freely available on YouTube and popular podcast platforms such as Apple, Spotify and Google, includes the main series as well as various Special Series that go deeper into specific areas. For example, one focuses on nonpartisan resources to help people run for public office, one includes lessons on public engagement and governing at the local level, and one includes reflections on various issues impacting communities that he explored on a road trip across the United States in the Summer of 2021. While there is some focus on issues related to New Jersey, he shares that the majority of the discussion is relevant to people working in and around local government anywhere in the nation.
Torpey's formula to address these issues is to bring together inter-disciplinary scientific, philosophical, intuitive and logic-based material, leaving no assumption unquestioned to explore the causes, not the symptoms, of the problems people see around them.
His own experiences are diverse and wide ranging, which help to inform the broad perspectives taken in the series. He served as a non-party affiliated mayor of South Orange at age 23, a municipal business administrator, founder of a digital consulting firm, an emergency management director and volunteer EMT, a management consultant, mentor and speaker, in addition to his teaching experiences as an adjunct professor in the Master of Public Administration (MPA) program at Seton Hall. "Alex combines the real-world experience as a town administrator and elected official with an academic desire to question everything. It is a great combination and one that our students really enjoy," explained Professor Matthew Hale, MPA Program Chair for the Department of Political Sciences and Public Affairs at Seton Hall.
"My goal is to provide a public platform that helps us to rethink the future of our communities, our nation, and ourselves," Torpey said. "Although this is not how most people feel right now, and often for good reason, our public institutions can indeed be proactive, thoughtful, strategic forces for good. But only if we really dig into some of the root causes and assumptions that have lead us to where we are. There are a lot of layers to peel back, and I hope to provide a space to do that with people who care about improving these systems."
Torpey invites those who want to make a different to visit Rethinking with Alex Torpey and join this community of innovators, managers, influencers and activists.
Shares Hale, "Lots of people think inside the box. A few people think outside the box. But it is a rare individual like Alex that wonders why we are talking about boxes."