Heart of the University, Faculty Retreat Series 2022-2023
Thursday, September 8th, 2022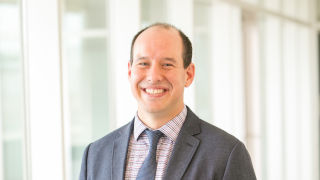 Bryan Pilkington, Ph.D., Associate Professor in the Department of Interprofessional Health Sciences and Health Administration
The Office of Mission and Ministry and the Center for Vocation and Servant Leadership are co-sponsoring a series of retreats for the Fall 2022 semester. "The Heart of the University Retreat Series" gives faculty and administrators of all faiths the opportunity for input and guided reflection.
The first retreat will include a presentation by Bryan Pilkington, Ph.D. and will focus on the theme of "Faith and the Academic Disciplines: Insight, a Well-Formed Conscience, and Mistaken Beliefs." Pilkington is an Associate Professor in the School of Health and Medical Sciences, and Professor of Medical Sciences at the Hackensack Meridian School of Medicine, as well as a participant in the Praxis Program. The first session with Prof. Pilkington will be held on Monday, October 3, 2022, from 9:00 to 11:00 a.m. in the Beck Rooms and via Microsoft Teams.
Participants are invited to reflect on notions of faith and sublation as related to their work in their respective academic disciplines. A focal point and application for this reflection will be the role of a well-formed conscience and its relationship to belief. As part of this retreat, participants will be asked to examine the conscientious practices of their disciplines, as well as to consider potential disagreements and resolutions among diverse interlocutors and the distinct disciplinary approaches. The Office of Mission and Ministry and the Center for Vocation and Servant Leadership hope that in the upcoming session participants will have a better understanding of the importance of a well-formed conscience in discerning paths forward through current ethical and bioethical challenges.
If you have any questions, please contact Linda Garofalo or Francia Peterson at [email protected].
RSVP to [email protected] by September 29, 2022. Click here for further information.
Categories: Campus Life, Faith and Service