Wednesday, August 25, 2021
The Class of 2025 at Seton Hall University has broken records for the most applicants, largest class, highest average GPA, highest average SAT and ACT scores and the most diverse student body.
A record-breaking 23,252 would-be Pirates completed applications for the Class of 2025; of those, 1,675 are slated to attend – making this year's class the largest in Seton Hall history.
The record number of applications to Seton Hall as well as the unprecedented size of the incoming undergraduate class continues a record-breaking trend for the University. The Class of 2025 marks the sixth time in seven years the University has broken its own record for applications and the fourth time in five years it has done so for class size.
Prior to this year, the largest class of freshmen to date was the Class of 2023 (entered 2019), which held 1,633 freshmen and itself broke the record of the Class of 2022 (1,524), which in turn had broken the record of the Class of 2021 (1,461).
"New Jersey's best kept academic secret is seemingly out," said Seton Hall University Vice President for Enrollment Management Alyssa McCloud. "In 2016 we broke our record for applications with a little more than 15,000 – this year, just five years later, we had more than 23,000 applicants, an increase of more than 50 percent. As recognition of our academic distinction and outstanding employment outcomes has spread, more of the nation's best and brightest have come home to the Hall."
In addition to a record-breaking number of applicants and students, the largest class in Seton Hall's history has continued the University's trend of rising academic achievement.
The Class of 2025 boasts the highest average GPA in Seton Hall history as well as the highest average SAT and ACT scores. The Avg. GPA went up from 3.61 to 3.64 and the SAT average is now 1290 versus a previous high of 1234 from the Class of 2023, having risen nearly 20 points in two years. In addition, average ACT scores for the Class of 2025 rose 1.4 points to 29, besting last year's record of 27.5.
While sustaining academic excellence in its incoming class, Seton Hall has also held its commitment to diversity in all forms and its identity as a university of opportunity: nearly one third of all incoming students (32.72 percent) are Pell eligible and more than 35 percent are the first in their family to attend college; 52.4 percent identify as students of color (itself a Seton Hall record) and nearly 58 percent are female (also a record). Of those attending, more than 1 in four are from out of state but given restrictions on international travel still in effect, less than 2 percent hail from outside the United States.
"This is the first year Seton Hall offered 'test optional' admissions to better support students through the application process and to allow for more student choice in sharing academic records and achievements," said McCloud. "The result was these great outcomes of increased access and diversity while continuing to elevate our enrollment and academic profile." Standardized test optional admissions are in effect at Seton Hall until 2026.
Meet Some of Our Newest Pirates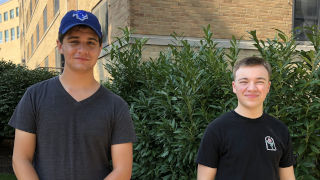 Roommates Spencer Gonzales and Kyus Wright are best friends from Mukilteo, Washington. Spencer is majoring in Visual and Sound Media (Broadcasting/TV/Film) and Kyus in Theatre. Seton Hall and the College of Communication and the Arts was the number one choice for these childhood friends. "It has the number one student radio station in the country and it's got a theatre program, what a fantastic communication program," said Spencer. "This is a start of a new life in a totally different part of the country than we've ever been used to. I really want to go into sports media and knowing that ESPN is in Connecticut, just a couple hours away, that was huge."
Added Kyus, "Wow, we're on our own now. And it's so cool to finally be able to pursue something that we're really passionate about in our own fields and do it in a learning environment like this. Knowing that there are a lot of acting opportunities in New York was a big thing for me. That's immediately a top choice for me."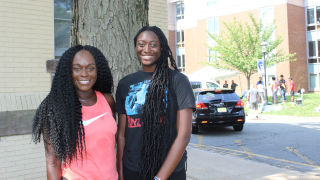 Tabreanna Walrond is from Queens, New York and is entering the Stillman School of Business. She came to Seton Hall because her entrepreneurial aunt, Samantha Sinclair, "led the way" as a doctoral student in the Education department. "I watched my aunt take a set of flash cards here at Seton Hall and turn it into Pathway to Purpose," an organization selected by American Express for its 100-for-100 Founders of Change program. Tabreanna is interested in playing intramural basketball and volleyball while here at Seton Hall and living within a more diverse community.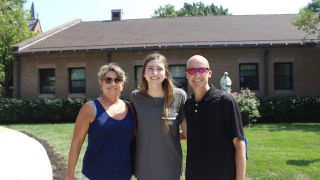 Callie McCool is from Tampa Bay, Florida and is a biology major who has entered the 4 + 4 Medical School program. A member of the Buccino Leadership Institute, she hopes to one day be an obstetrician or pediatric doctor. While at Seton Hall she looks forward to working with DOVE and other service- oriented clubs and organizations.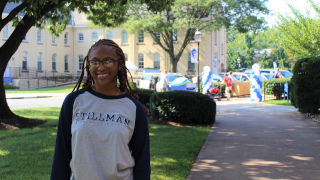 Aniya Hunter is from Temple Hills, Maryland ("around 15 minutes from Washington, D.C.") and will be pursuing Finance through the Stillman School of Business. Attracted to Seton Hall because of what she described as the "outstanding reputation of the business school" as well as its record of job placement, Aniya plans on becoming a financial advisor.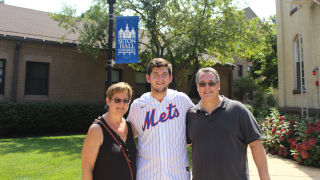 Bobby Steiner is from Seaford, New York (Long Island), and is an Honors Program student who intends to double major in Journalism and Visual and Sound Media (Broadcasting/TV/Film). While at Seton Hall he hopes to work at WSOU, 89.5 FM as well as Pirate TV and Global Current. In addition to broadcast work, he plans on writing for The Setonian.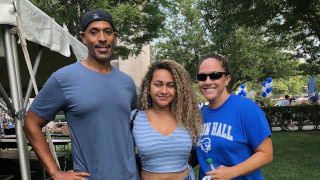 Psychology major Daija Harris, from Gilbert, Arizona, looks forward to beginning her academic journey. "I really like studying the way the mind works. I think it is so interesting to just see how just the little things can affect the grand scheme of things." Participating in theatre and singing in high school, Daija expressed an interest in continuing with the performing arts on campus and similar experiences, being so close to New York City.
Parents Aaron and Colleen expressed their pride in their daughter's path forward. Says Mom Colleen, "She's always been a high achiever and she's a very high ethical person as well. I'm hoping that here, she'll expand her horizons and opportunities on campus."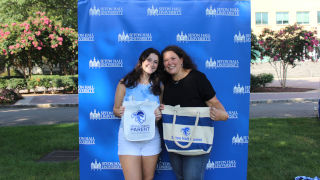 From Long Island, for Taylor Castaldo Seton Hall is a family tradition. As she begins her studies in biology as part of the 3 + 3 Physician Assistant program, she is following in the footsteps of her mother (Jennifer Rodriguez Castaldo '98), her aunt, her uncle and more. "Most of my family are Seton Hall alums." Taylor says she is pursuing a life in the medical field out of her "passion for caring for others."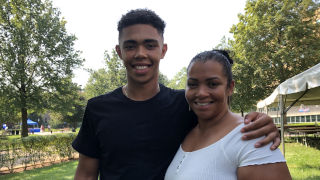 Jedier Hernandez, born in Puerto Rico and now living in Trenton, New Jersey, is majoring in business management. A self-described entrepreneur, one day he wants to own a business connected to the sports industry. He explained that he learned about Seton Hall from his high school baseball coach, who praised the University. Hernandez, a catcher, hopes to make the team.
"This is a great school. I want to do this for myself. And I want to get closer to God. I'm excited to be here," said Jedier, the oldest of four siblings.
Shared Mom Rosa, "I'm feeling a lot of emotions now that my first child is going to college. It means a lot. It's a great day."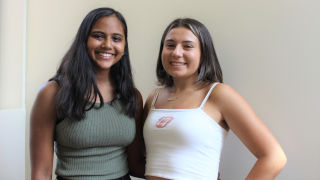 Roommates Disha Patel and Katherine DeFalco are both starting in the 3+3 Business and Law School program. Having met on Facebook, the two students decided to room and study together. From Staten Island, New York, Katherine said she is unsure of what type of law she'll practice, but is counting on her studies to illuminate her options and further define her career path. Interested in Greek Life, Katherine is excited to get involved on campus. Disha Patel, from Parsippany, New Jersey, was attracted to Seton Hall by its proximity to New York City and the reputation of Seton Hall Law School in Newark. She wants to pursue Business Law and is interested in joining the Brownson Speech and Debate Team, Mock Trial and other public speaking organizations.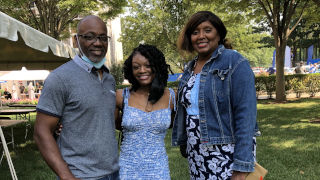 Victoria Duncan, from Theodore, Alabama, is a criminal justice major, planning to attend law school. Wanting to experience life in a new location, Victoria shared, "I want to be a lawyer, and Seton Hall has a good pre-law program and a good law school." She also likes cheering, enjoys abstract art and wants to explore all that Seton Hall has to offer.
Proud parents Glenn and Vanessa celebrated their daughter's achievement. "This is a new challenge," said Vanessa.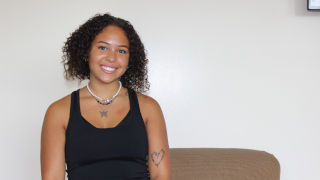 Skylar Vann is from Fort Mill, South Carolina and was drawn to Seton Hall because of its generous financial aid package and its proximity to New York City. Set to pursue media and film studies through the Visual and Sound Media major, Skylar said she is interested in "someday working in film or video in the City." While here on campus, she's "looking forward to making memories and building a foundation for my future."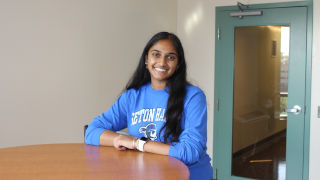 Rosmy Alengaden, from Folsom, California, said she was attracted to Seton Hall for the small community and looked forward to getting to know people. With aspirations to be an obstetrician-gynecologist, Rosmy is in the Joint M.D. program studying Biology. Rosmy described herself as an active person who enjoys being in nature, playing tennis and skiing.
"What I really like about Seton Hall is how welcoming everyone is," Rosmy said. "The small community means it won't be overwhelming and it's nice that everyone knows each other."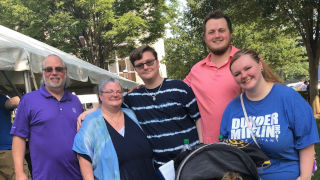 Daniel Devine, from Sparta, New Jersey, is a political science major whose grandfather is a judge. Daniel explained that he is interested in the legal profession because he cares about right and wrong, inequality and helping people who have been taken advantage of.
Excited to begin his college experience, he said, "We went for a tour and I fell in love with the school. I'm happy for the opportunity and I'm really thankful." Daniel also hopes to stay involved in music at Seton Hall. "I play trumpet and French horn. Music is definitely a passion of mine."
Says Mom Jessica, "You just realize you gave them all the tools in their life to accomplish their goals and it's their decisions now that create their path in life. I'm sure he's going to make a name for himself in a positive way and help others and succeed here."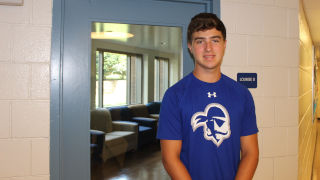 Staying close to home in Cherry Hill, New Jersey, Andrew Luehrs said he came to Seton Hall because of the impressive faculty in the Stillman School of Business and its state-of-the-art trading room. "The small classes are a major draw, and I look forward to meeting and networking with my professors and classmates," Andrew said. Following in the footsteps of his family, he is interested in becoming a financial advisor. Outside of academics, Andrew is planning to try out for club soccer and looks forward to meeting new people.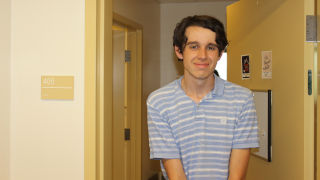 Ryan McMullin is a Martin Luther King Scholar who comes from Woodridge, New Jersey, and is enrolled in the Political Science/Law School 3 + 3 program. In law school he hopes to prepare for a career in environmental justice. Here in South Orange, he plans on participating in the Mock Trial program and is interested in finding other clubs and opportunities to develop his rhetorical skills.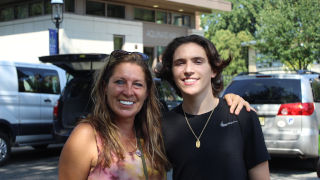 James McCoy is from Staten Island, New York and will be studying Finance in the Stillman School of Business. He came to Seton Hall to visit and said "It was love at first sight." Although he intends to study business and business finance generally, he plans to apply this learning to a career focused on real estate and real estate finance.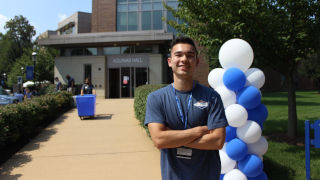 From Union, New Jersey, Ethan Brady is looking forward to living away from home at Seton Hall. Undecided yet on his course of study, Ethan said he is excited to meet new people and make new friends. He plans on attending the Involvement Fair (which runs from Tuesday, September 7 – Thursday, September 9) to see which of the 130 plus clubs, organizations and societies available at Seton Hall will best inform and enrich his college experience.
Categories: Business , Campus Life , Education
---
Move-In Day 2021