Chesterton Institute Online from Madrid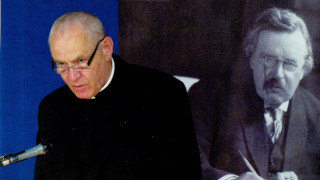 The G.K. Chesterton Institute for Faith and Culture is pleased to announce the book presentation of a special publication in the Spanish translation of G.K. Chesterton's articles published in the "Illustrated London News in 1908," with a prologue by Father Ian Boyd, CSB, President Emeritus of the G.K. Chesterton Institute for Faith and Culture and Founding Editor of The Chesterton Review.
This special edition will be presented in an online event via Zoom on March 24, 2021, at 7:00 p.m. (Madrid)/2:00 p.m. (New York).
Click here to join the event live. Please note that this event will be in Spanish.
Our presenters include Maria Isabel Abradelo and Pablo Gutierrez of Universidad CEU San Pablo, Madrid, editors of the publication. It will be moderated by Enrique Garcia-Maiquez, poet, literary critic, writer and professor.
This special edition has been published by Ediciones Encuentro, Madrid and Fundación Cultural Angel Herrera Oria.
The G.K. Chesterton Institute for Faith and Culture is located at Seton Hall University, South Orange, NJ. Founded in 1974 by Father Ian Boyd, CSB, its purpose is to promote the thought of G.K. Chesterton and his circle and more broadly, to explore the application of Chestertonian ideas in the contemporary world. The Institute's work consists of conferences, lecture series, research, and writing. The Chesterton Review, founded in 1974, has been widely praised both for its scholarship and for the quality of its writing. The journal was founded by Father Boyd and is edited by Dr. Dermot Quinn and includes a wide range of articles not only on Chesterton himself, but on the issues close to his heart in the work of other writers and in the modern world. It has devoted special issues to C.S. Lewis, George Bernanos, Hilaire Belloc, Maurice Baring, Christopher Dawson, Cardinal Manning, the Modernist Crisis, J.R.R. Tolkien, Fantasy Literature, a Special Polish Issue and a Special Charles Dickens issue among others. The Chesterton Review also publishes one annual issue in Spanish and an annual supplement in Portuguese and French. For information about the Institute or The Chesterton Review, please contact [email protected].
Categories: Arts and Culture, Faith and Service, Nation and World