Monday, September 28, 2020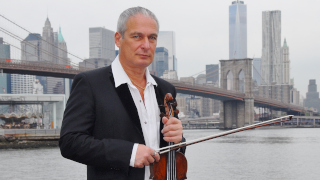 On Thursday, Nov. 5th, from 6:30-7:30 p.m., via Zoom, Slavic Club will be hosting an educational musical presentation, "Trail of Mystery: An Enchanting Gypsy Experience in Concert", by the Internationally acclaimed Concert Violinist, Dr. David Podles.
Dr. David Podles is a laureate of 3 prestigious international competitions and holds his Ph.D. in violin from conservatory in Riga, where he was born. He has performed on over 40 stages in symphony, chamber opera and ballet theater orchestras both solo and with orchestras in Europe, Russia, including Bolshoi and Kirov, U.S., and around the world. After the fall of the Soviet Union, he has arrived to America in 1992. Since then Dr. Podles performed at the Lincoln Center, Carnegie Hall and 92nd Y both solo, and with orchestras. Most recently he performed at Top of the Rock at Rockefeller Center.
Dr. David Podles will provide for our audience a lecture/recital in which he will present Gypsy music from such Slavic countries as Russia, Poland, Ukraine, Belorussia, - among many others. Also, he will speak about each piece and its significance and then perform. It will be a presentation done solo with his recorded back up accompaniment, which he created himself.
We have hosted this performer many times already and his concerts have always been one of our MOST successful events and attended by a standing room only audiences.
Q&A session will follow the presentation.
Please join us via Zoom for this lively and informative Dr. Podles' concert.
If the above link doesn't work for you, please get in touch with:
Ella Events
Phone: 201-214-1690, or via e-mail: ella.ellaevents@gmail.com
Or click here www.youtube.com/user/ellaevents
Everyone is welcome to join us!
Categories: Arts and Culture