We Bring Leaders Together: A New Student-Run Initiative within the Buccino Leadership Institute
Friday, September 23rd, 2022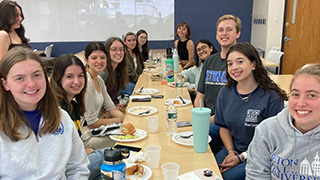 Buccino Students at a We Bring Leaders Together Event
Sophomores Melanie Yetman and Kristen McGuire have brought a new student-run initiative to the Buccino Leadership Institute: the We Bring Leaders Together Initiative. To bring leaders together and build a stronger sense of community within the institute, Yetman and McGuire's initiative holds events that allow students to network and create memories with one another. In the past, they have hosted a luncheon, ice cream social, coffee house, and game night. They plan on offering these successful events again for students to enjoy this semester.
This new initiative is a continuation of Yetman and McGuire's Interdisciplinary Team Project from the spring 2022 semester. The Interdisciplinary Team Projects, commonly referred to as IDTs by members within the Institute, are real-world projects where students of different academic disciplines are selected to work together for an entire semester with the goal of presenting their results to peers, associate deans, and members of the community.
The inspiration for Yetman and McGuire's initiative came from their mutual recognition that there appeared to be a disconnect among students of different grade levels and cohorts within the institute. While they were on different IDT teams, they recognized that they each had the same goal: to help strengthen connections with other students within the Institute. After their IDT presentations in the spring, Yetman and McGuire, both their IDT team leaders, joined forces to create a single initiative with the goal of fostering relationships among leadership students.
Next semester, the initiative hopes to host a field day for all leadership students. They believe that this event would be a fun and interactive way for students to apply their leadership skills in a low-stakes scenario with a team of their peers.
Yetman and McGuire are looking for additional members to join their team. If you are a leadership student who wants to foster a sense of family, promote team-bonding, and connect students from diverse backgrounds please email Melanie Yetman or Kristen McGuire at their Seton Hall emails.
Categories: Business