"If your actions inspire others to dream more, learn more, do more and become more, you are a leader" – John Quincy Adams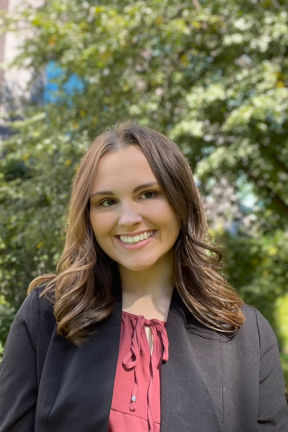 Coming to Seton Hall University, Melanie knew that she loved the business world, but was unsure what field she wanted to pursue because there were so many options. She had so many different interests, and not all of them overlapped. However, what she did know, was that she wanted to lead. This passion for leadership led her to apply for the Buccino Leadership Institute.
When interviewing for program, Melanie initially named "creativity" as one of her weaknesses because she typically approached projects from an analytical and conventional perspective. Throughout school, she was taught to complete a project to the standards outlined on the assignment, which did not leave much room for creativity. The program led Melanie to quickly realize that creativity is actually one of her strengths, as it has given her countless opportunities to develop this side of her. In the program, Melanie has created social media content, produced a promotional video, and lead event planning. From this, Melanie's passion for bringing creative ideas to the table, passing on enthusiasm for a project, and empowering others to act grew.
Melanie is devoted to promoting the institute and wants to make the greatest impact possible. She wants to "further increase community outreach and involvement within the institute because it has brought me great opportunities for growth and people that I can call family." For this reason, she is very proactive in the institute, as a representative on the leadership student council, co-president of the advisory council initiative, and a member of the social media initiative. Melanie loves that she is "able to develop projects to improve the institute, strengthen communications with the advisory council members and promote the social media for the program".
Because of her growth in the program, Melanie has applied her creative side to her passion for mental health and wellbeing. Currently interning for Nubia D. Wilson, an entrepreneur who shares her personal journey with PTSD and sexual assault, Melanie has helped to create social media content for her platform.
Dedicated to self-growth, Melanie hopes that she can continue to step outside her comfort zone and become a better leader.
Seton Hall Career Highlights:
Business Undergraduate Representative on the Buccino Leadership Student Council
Co-director of the Advisory Council Initiative
Social Media Initiative, Business Cohort
Family Initiative, Business Cohort
Interview Initiative, Business Cohort
Peer Tutor for Student Athletes
Photographer, Setonian
Member of Kappa Kappa Gamma Sorority
Philanthropy Committee, Kappa Kappa Gamma Sorority