"Servanthood does not nullify leadership; it defines it."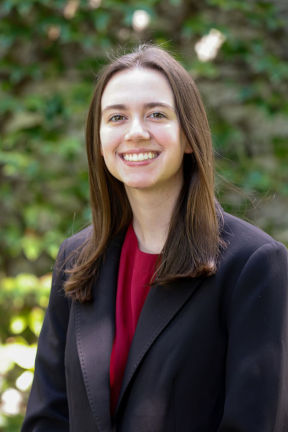 Kristen McGuire is a student in the Seton Hall School of Diplomacy and International Relations, with a double major in Philosophy, from Flemington, New Jersey. On campus, she is a member of the Buccino Leadership Institute's Diplomacy cohort, as well as the Honors Program.
Throughout her life, Kristen has taken on various leadership positions and has developed skills needed to be successful. Passionate about servant leadership, she was the Director of Service on her high school's Student Council Executive Board and has continued to pursue this passion in her college endeavors. Kristen is a member of both the Buccino Leadership Institute's Diversity and Inclusion Initiative and the university's Inclusion Alliance. She loves getting to know people and aims to create an inclusive environment founded on open communication and mutual respect. She easily builds connections with others, and this shows in her leadership style.
This focus on interpersonal connections can also be seen in her choice of major, diplomacy and international relations. Kristen began traveling overseas and interacting with people of different backgrounds from a young age, which fostered her sense of cultural curiosity. These experiences and her love of learning about history and current events led her to pursue her current major, which brought her to Seton Hall. Kristen was drawn to the university by its School of Diplomacy and International Relations, attracted by the school's reputation and professional development resources.
The Buccino Leadership Institute was another deciding factor for Kristen to attend Seton Hall. She explains, "The Buccino Leadership Institute offered me the chance to be a part of something special, and that was an opportunity that I could not pass up." Kristen recognized when applying to college how invaluable the lessons and resources provided by the Institute are to developing leaders, and, throughout her time as a member, her expectations have been far exceeded.
Leadership, according to Kristen, is a lifelong journey. It is a culmination of skills that must be constantly refined and strengthened. As a member of the Buccino Leadership Institute, Kristen has done just this, and she will continue to grow as a leader for the remainder of her time at Seton Hall and beyond.
Seton Hall Career Highlights:
Competitively selected into the Buccino Leadership Institute
Member of the Seton Hall Honors Program
Treasurer of the Seton Hall Chapter of the John Quincy Adams Society
Member of the Seton Hall Inclusion Alliance
Member of the Buccino Leadership Institute's Diversity and Inclusion Initiative