Slavic Club Presents "The Lady with the Dog" for Russian Movie Night
Wednesday, January 22nd, 2020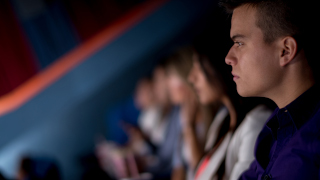 On Thursday, January 30, 2020 in Fahy 236, Slavic Club will be showcasing the famous Russian film, The Lady with the Dog (Дама с собачкой), based on Anton Chekhov's short story of the same name.
First published in 1899, it describes an adulterous affair between Dmitri Dmitritch Gurov, an unhappily married Moscow banker, and Anna Sergeyevna Von Diderits, a young married woman. The affair begins while both are vacationing alone in the Crimean (Black Sea) resort of Yalta. The story comprises of four parts: the initial meeting in Yalta, the consummation of the affair and the remaining time in Yalta, Gurov's return to Moscow and his visit to Anna's town, and Anna's visits to Moscow.
This is one of Chekhov's most famous pieces of short fiction. Vladimir Nabokov, for instance, considered it as one of the greatest short stories ever written. The 1960 film version was produced by Josef Heifitz and starred Alexei Batalov and Iya Savvina. It won a Special Prize for "lofty humanism and artistic excellence" at the 1960 Cannes Film Festival.
Everyone is welcome to join Slavic Club for Russian Movie Night! Slavic food will be served!
Categories: Arts and Culture