Guide to Online Schools Ranks Master of Healthcare Administration Top 3
Wednesday, April 22nd, 2020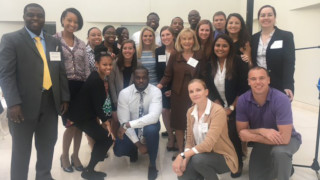 The School of Health and Medical Sciences' (SHMS) Online Master of Healthcare Administration (MHA) program placed in the top 3 in the Guide to Online Schools' 2020 Best Online Colleges for Value ranking. Based on a combination of manually researched tuition, accreditation, and PayScale salary data, this ranking shows that an MHA degree from Seton Hall is a degree worth earning.
In order to develop the list, Guide to Online Schools researched each institution's tuition rates and salaries representative of graduates from a specified subject area and degree level. The salary shown is the median mid-career salary of graduates and highlights the return on investment 10 years out. Schools must be regionally accredited and offer at least one fully online degree in a single subject for the degree level ranked in order to be considered for the publication's subject rankings.
"We are always proud when the program is recognized by highly regarded publications for its performance," says MHA Program Director, Anne Hewitt, Ph.D. "The MHA program endeavors to bring together individuals from varied backgrounds who use the educational tools we provide to become successful healthcare administrators and leaders."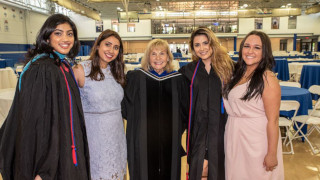 In 1997, the University began offering the MHA degree both online as well as on-campus. To date, there have been well over 300 graduates from the online program, many of whom are considered non-traditional and adult students looking to advance their careers. Alumni describe the program as being a great option for working professionals who are already full-time employees in addition to more traditional full or part-time students.
An MHA degree from Seton Hall University presents a vast variety of career possibilities. Many program graduates hold mid-to-senior level positions at premier healthcare institutions such as service line director, clinical manager, operations manager of cardiovascular services, vice president of outpatient clinical operations to name a few. Currently, there are 15 online MHA graduates serving as Presidents and CEOs of major hospitals and health systems around the nation.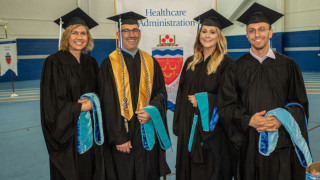 Students enter the program at all stages of their career and are provided the essential experiences and courses needed to understand the complex field of healthcare management. Taught through a combination of rigorous online courses and in-person intensives/residency visits, the online program is delivered sequentially over six semesters. Students receive courses in Population Health Management, Healthcare Data Analytics, Health Policy, Emergency Management for Health Professionals, Health Finance, and Legal and Human Resources Issues in Healthcare which are vital to their professional development. During each in-person intensive, online students are brought together to hear presentations from faculty and healthcare executives, network with MHA students and alumni, and complete an MHA course.
The MHA program is a member of the Association of University Programs in Healthcare Administration (AUPHA), a national association of university-based educational programs, faculty practitioners, and provider organizations whose members are dedicated to continuously improving the field of health management and practice. The Seton Hall MHA is the only CAHME accredited program of its kind in New Jersey. A Commission on Accreditation of Healthcare Management Education (CAHME) accreditation is integral in verifying the quality of education and ensures that the education is up to standard. "As one of the first programs to be CAHME accredited and delivered using both online and on-campus formats of instruction, we are proud to offer an education that is up to the highest national standards and certainly one program that addresses the current challenges faced by many in the healthcare due to the immediate COVID-19 pandemic," says Brian B. Shulman, Ph.D., Dean of the School of Health and Medical Sciences.
In addition to the online and on-campus degree program, the MHA program offers four 15-credit, graduate-level certificates designed for busy health professionals. Students are able to earn individual certificates in Healthcare Administration, Population Health Management, Practice Management for Health Professionals and Global Health Management to advance their professional skills. Like the degree program, the certificates are available through flexible learning formats (online and on-campus). The certificate curricula contain specialized content aimed at improving one's understanding of healthcare leadership and management.
Click these links to learn more about healthcare administration career planning and to hear first-hand accounts from our alumni.
For more information about the Master of Healthcare Administration (MHA) degree program within the School of Health and Medical Sciences, please contact Dr. Anne Hewitt at [email protected].
Categories: Health and Medicine