Seton Hall University to Open Fall Semester on August 24 with On-Campus and Remote Learning Options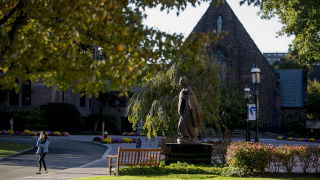 Seton Hall is eager and excited to welcome students, faculty, clergy and staff members back to campus for the fall 2020 semester. Today the University announced an academic calendar and hybrid, flexible (HyFlex) instruction plan that offers both in-person and remote instruction while ensuring the highest level of health and safety for all members of the campus community.
Having incorporated input from state and local public health experts, and by adhering to the best scientific and governmental guidance, Seton Hall plans to conduct the fall semester as follows:
Monday, Aug. 24: Classes begin. Instruction will continue through the semester without a fall break.
Tuesday, Nov. 24: Classes conclude. Students depart for Thanksgiving break and will not return to campus for the remainder of the semester.
Monday, Nov. 30: Review sessions, reading days and final exams will be administered remotely over the next two weeks.
This schedule reduces cyclical risks of virus spread during colder months. It also avoids the possibility of students, faculty and staff members traveling home for fall break and Thanksgiving, contracting the virus, and returning to campus with nascent cases of COVID-19.
Seton Hall Law will operate under a separate calendar while implementing University-wide health and safety principles.
The plan for the fall 2020 semester includes a HyFlex blended approach to classroom instruction. It ensures in-person, reduced-density learning while offering students the option to pursue their studies entirely in a remote fashion.
Students who choose to study on campus will experience a blend of in-person and remote live instruction. This creates physical distancing for those choosing an in-person environment while accommodating students who choose the remote option for the semester.
"Each member of our community is integral to creating the Seton Hall experience in its fullest, most dynamic sense," said Joseph E. Nyre, Ph.D., president of Seton Hall. "We look forward to commencing on-campus instruction for our students, who are eager to continue their academic progress on our vibrant campuses. This is especially true for students whose living situations away from Seton Hall are not optimal for study."
Seton Hall's plan for the fall 2020 semester is the result of months of contingency modeling, which has positioned the University to respond exceptionally well to the shifting parameters of the pandemic. The plan includes multiple protocols, including testing and tracing. These protocols will be augmented by additional actions that are designed to provide maximum health and safety.
The reopening plan is driving infrastructure improvements that will allow Seton Hall to deliver safe, high-quality, in-person and remote learning. Work is underway to modify campus environments, including academic buildings, dining spaces and residence halls, to support physical distancing and uphold health protocols. Residence hall rooms will reopen with reduced density and specialized cleaning procedures.
Additional classroom technology will be installed over the summer to support the HyFlex teaching modality. This will be supplemented by a summer workshop to equip faculty members with the tools to help them ensure the high-quality Catholic educational experience that has been Seton Hall's mainstay since 1856.
The University will continue its comprehensive planning effort to prepare for all possible scenarios, particularly those that anticipate a return to fully remote instruction. Faculty and staff will be prepared to move instruction entirely online at a moment's notice should this become necessary, and to provide remote learning throughout the semester to students who may be in isolation, quarantine, or simply prefer to receive instruction away from campus.
Seton Hall's Health Intervention and Communication Team will continue efforts to finalize health protocols in coordination with CDC guidance, evolving New Jersey regulations and pending executive orders. The Reopening Operations Team will continue efforts to integrate all changes to campus, the academy and Student Services regarding the acquisition of personal protective equipment and development and introduction of health and safety protocols.
"While we recognize the challenges of reopening on campus, we know they are ones we can address and overcome," President Nyre said. "We remain in contact with state and local officials as Seton Hall works toward returning to full operations on all our campuses. We are working hard and will promote an environment that is as safe and healthy as possible."
The University will continue to update our community through announcements and our Plans for the Fall 2020 Semester website.
Categories: Campus Life