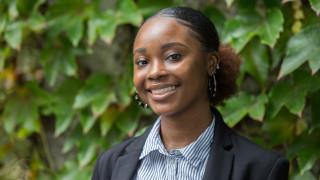 First year Elementary/Special Education student, Kristina Brown, has been involved in a unique mentorship program -- Today's Students Tomorrow's Teachers (TSTT) -- that is helping her reach her goal of becoming a teacher, educator, and mentor. 
From an early age, Kristina says she's always wanted to become a teacher. "I strongly believe that working with children is something that I am called to do. I want students to feel cared for, respected, listened to, and safe." Her passion for teaching was inspired by her middle school English teacher, who she remembers as "a light in the classroom.  I knew that she really cared for her students and wanted them to succeed. I never once dreaded showing up to her class. The same feeling, she gave me is the same feeling I want my students to feel when they walk into my classroom."
Kristina became part of the TSTT program during her junior year of high school. Since then, she has gained valuable insight and experience from student teaching, observing classrooms, shadowing teachers, and tutoring. "My experience with TSTT was amazing. Usually, students join the program their freshman year and go through the process all the way through senior year. Unfortunately, I had not known about the program until my junior year. Despite this, I was welcomed with open arms because they saw my passion for wanting to be a teacher. I was held accountable for the two missing years of requirements that I had missed, and with their help and support I was able to fulfill everything I needed to graduate as a TSTT student. TSTT has given me a great opportunity to begin to learn skills early in my life. It has also helped to solidify my decision to go forth with this career path that I have chosen, and I am so grateful that I was given the opportunity."
When asked why she chose Seton Hall and the College of Education and Human Services, Kristina responded, "I knew that Seton Hall had a great teaching program. I had also visited a couple of times when searching for schools, and the community, atmosphere, and feel were so family-like and comfortable. Everyone was very friendly, and I felt confident that coming here would provide me with so many great opportunities that would help to grow me as a person through this journey." 
While she has an impressive academic background,  Kristina's extracurricular activities and volunteer service also demonstrate her commitment to becoming an outstanding educator.
Kristina is a Dr. Martin Luther King, Jr. Scholar and Buccino Leadership Institute Scholar at Seton Hall. She also volunteers at the Horac Ministries Bronx Wellness Fair and for the Horac Ministries Operation Christmas Child. At the Wellness Fair, she provides health information and screenings, food for the community, school supplies, and Biblical encouragement. Similarly, she assists with organizing, recruiting, and packing shoeboxes filled with toiletries, toys, school supplies, and other necessities for impoverished children globally from October through November. Her services outside the classroom reflect the influence of her middle school teacher and portray a message of more profound meaning to what being an educator truly represents, "I strive to be a positive role model and lead my students on the right path just like my middle school teacher did for me."
"My first-year experience at Seton Hall and CEHS with faculty and administrators has been amazing. Everyone is so kind, caring, understanding, and supportive. I can feel the love and the wanting for their students to succeed and do their best. It has truly helped me to remain confident and keep myself motivated during these difficult times."
This summer, Kristina was able to put her classroom leadership skills to practice by working with Kindergarten and First Graders at a summer camp in her local community. "I learned so many new things about interacting with these children, how to keep them engaged, and so much more. It has taught me so much, and I am so grateful I was able to implement what I learned about childhood education in my first year at Seton Hall." As she gets ready to begin her sophomore year, Kristina noted that she is looking forward to meeting new people and getting more involved on campus. She is especially excited about working with young children, building relationships, and gaining more knowledge on how to be a great teacher.
About Today's Students Tomorrow's Teachers (TSTT)
Founded by Chief Executive Officer Dr. Bettye H. Perkins in 1994, Today's Students Tomorrow's Teachers (TSTT) opens doors for young aspiring teachers and helps address the critical teacher diversity gap in the nation's classrooms. Chartered by the New York State Board of Regents, TSTT is a unique school-based mentoring program that recruits and mentors culturally diverse and economically challenged high school students interested in pursuing a career in teaching. TSTT provides financial assistance for students to attend college and places them as teachers and leaders who will inspire and strengthen their communities. It also serves students by encouraging and preparing them while in high school and college and is designed to reverse the growing shortage of highly qualified teachers, particularly teachers of color.
The TSTT program is an 8-year, full circle, collaborative model, with partnerships that share a common concern for all children's educational and career aspirations. Supported by school districts, colleges, corporations, and communities, TSTT has grown from seven students in one Westchester County and New York City high school to nearly 1,150 participants. Furthermore, through partnerships with universities, the program maintains a minimum 50% tuition scholarship for students.
In 2017, Seton Hall University became TSTT's 25th college partner and the first in New Jersey since the landmark teacher mentoring non-profit began. Bettye H. Perkins, founder, president, and CEO of TSTT, said, "TSTT is honored to partner with the prestigious Seton Hall University, which has a distinguished history of academic excellence including its renowned College of Education and Human Services and is a champion of diversity." She added, "This is truly a very exciting development that will provide TSTT's economically challenged students with the opportunity to expand their horizons and enrich their life's experiences by journeying from their hometowns to study at this great college and thrive in a culturally stimulating and challenging educational environment." The partnership includes enriched academic support, career guidance, and additive preparation for TSTT/Seton Hall students.
 
Categories: Education