Support DOVE: Provide Equity for Student Experiences on El Salvador Missions
Tuesday, August 15th, 2023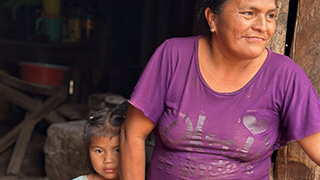 Over 850 students have participated in DOVE's international and domestic mission trips. With the price of travel skyrocketing, the Division of Volunteer Efforts is reaching out for support to provide these opportunities in an equitable way for students, regardless of their economic status.
Please see the campaign page linked here, if you are interested in supporting these students.
As always, the student experience speaks volumes more than we could ever outline in a news article. Please take a minute to read this moving letter provided to us by Ariela Romero, a Seton Hall senior who participated in DOVE's El Salvador Mission in January of 2023.
Dear Reader,

If you were to ask me to share one of the highlights of my sophomore year, I would tell you all about my first trip to El Salvador with DOVE. Before boarding the plane bound for San Salvador, many thoughts and emotions ran through my mind. As a daughter of a Salvadoran father and someone who had never set foot in El Salvador, Releasing the DOVEs mission was a dream come true! What better way to discover an untapped part of my identity than through service?! Yet, in all my excitement, I also felt nervous. I did not know what to expect. I was quite literally embarking on a service trip with strangers to El Mozote, a village that had endured one of the most traumatic events in history. Nevertheless, stepping onto the plane was the best decision I made. I may have traveled to El Salvador with strangers, but I returned home with some of my closest friends.

Despite our short time in El Mozote, we had the opportunity to connect and bond with locals and survivors. In the early mornings, we embarked on exciting hikes to reach the sick and elderly. We would listen to their powerful stories, and at the end of our visit, we would sing together. On other days, we would spend time in the center of the village playing with the children. And it was during these days that I witnessed the beauty of viewing this world and life through the eyes of a child. There was something contagious in the way bubbles and chalk ignited these precious sparkles in their eyes and gave them the superpower of self-expression. Other days were difficult to navigate and process. When we would listen to the painful testaments of survivors, it was challenging to process the fact that the very grounds where we had played with the children were burial grounds of the hundreds of children, adults, and elderly massacred by the Salvadoran Army in the 80s.

I acquired many lessons on this trip, lessons that perhaps this short letter cannot express. However, something close to my heart that I learned is embarking on a search for beauty in the simple and in my surroundings. In our repetitive commute to work and back home, we have become blind and deaf to the beauty of our surroundings. We take for granted the beauty of the trees that become distorted shadows as we drive past them. We fail to look up at the sky and appreciate the clouds. And in moments of great difficulty, we can no longer see the sunlight. But the people of El Mozote taught me that beauty can grow in the darkest of places. While flowers cannot sprout without sunlight, faith is the sunlight in the face of our darkest and most difficult circumstances. We can only witness beauty if we believe that it can grow once more despite how dark our life can get.

In a highly individualistic and low-context culture, the concept of community is often devalued. In a period where our nation is on the brink of rupture, community is something that we desperately need. And, through international outreach programs such as Releasing the DOVEs service trips, students at Seton Hall University can experience and witness the healing powers that the community possesses.

I am forever grateful to DOVE for making my first trip to El Salvador memorable and life-changing. However, my trip could not have been possible without the financial assistance I received from DOVE and its donors. I ask that you reflect on my story and consider the life-changing benefits of this service trip. I want others to experience this service trip for themselves and learn its invaluable lessons regardless of their financial situation. To help students like myself, I kindly ask for your support in funding these opportunities to help enrich the minds, hearts, and spirits of Seton Hall's next generation of servant leaders.

Sincerely,
Ariela Esmeralda Romero
Categories: Faith and Service