Talking Pandas and Partners: Diplomacy Expert Featured in Yahoo! News, AFP and Nikkei
Monday, November 20, 2023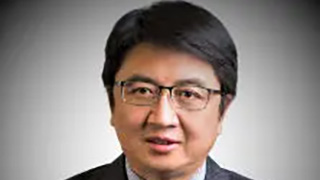 Professor Zheng Wang, Ph.D., director of the Center for Peace and Conflict Studies at the School of Diplomacy and International Relations, Global Fellow at the Kissinger Institute on China and the United States of the Woodrow Wilson International Center for Scholars, Fellow of International Security at New America, and a member of the National Committee on United States-China Relations (NCUSCR), is a highly sought-out media expert called upon to analyze the Asia-Pacific Economic Cooperation (APEC) summit in San Francisco and the meetings between President Biden and Chinese President Xi.
Professor Wang's interview with the leading global news syndicate Agence France-Presse (AFP), Pandas and partnership: Was Xi's US trip a success? appeared throughout the world media, including Yahoo! News, International Business Times, Radio France Internationale, France 24, The Guam Daily Post, Hong Kong Free Press, MSN South Africa, and The Philippine Star. He discussed Xi's first visit to the United States in six years and the Biden-Xi summit as a "potential turning poin" in bilateral relations between the two nations.
Providing his insights, Professor Wang explained: "We've witnessed a trade war, technology conflicts, and the far-reaching impacts of the Covid-19 pandemic," he said. "Stable and constructive US-China relations are therefore needed for both sides."
As President Biden faces the presidential election campaign, and monitoring wars in Ukraine and the Middle East, Xi faces his own economic challenges in China and political intrigues around the Communist Party leadership.
In an interview with Nikkei Asia, With Xi in U.S., China's influencers put lid anti-West rhetoric, Professor Wang spoke about an awareness of China tapping down on nationalist sentiment and anti-Western and anti-U.S. rhetoric. He is the author of the award-winning book Never Forget National Humiliation: Historical Memory in Chinese Politics and Foreign Relations (Columbia University Press, 2012), and the acclaimed Memory Politics, Identity and Conflict: Historical Memory as a Variable (Palgrave Macmillan, 2018), which aims to contribute to methodological discussions concerning the use of historical memory as a variable to explain political actions and group conflict.
Professor Wang explained that using nationalism to sway public opinion is like riding a tiger.
"Once you ride a tiger, it's hard to get off… It makes it much harder for the government to change its foreign policy, even though many people in China know that the current [direction] is not in China's [best] interest," he said.
Since 2016, Professor Wang has led a U.S.-China track II dialogue project, generously funded by the Henry Luce Foundation, focusing on the U.S.-China relations and communication over bilateral disputes. As a part of this program, he recently convened a trilateral conference in Tokyo, Japan titled "Securing East Asian Peace: Meeting Challenges and Managing Conflicts." This program has also culminated in the upcoming publication, COVID-19 and U.S.-China Relations, scheduled for publication in early 2024 by Palgrave Macmillan. This volume, of which Wang serves as the editor, offers a groundbreaking examination of the profound and lasting impacts of COVID-19 on U.S.-China relations.
Read Professor Zheng Wang's interviews on U.S.-China relations and the Biden-Xi summit in AFP and Nikkei Asia.
About the Center for Peace and Conflict Studies (CPCS)
The Center for Peace and Conflict Studies (CPCS) is a creative hub that merges cutting-edge academic research, education programs and practical initiatives that reduce violence, and build more peaceful societies and international relations. The Center promotes interdisciplinary research on a wide range of topics related to peace and conflict with an emphasis on conflict prevention, management, resolution, and post-conflict peace building and reconstruction. The Center is committed to advancing the understanding of social conflict, global peace and conflict issues through multidisciplinary, multilevel, and multicultural approaches. Through the Center's ongoing research projects as well as education and practice activities, faculty, students, alumni and colleagues work together to develop the interdisciplinary field of peace and conflict studies. To learn more, please visit CPCS.
About the School of Diplomacy
An affiliate member of the Association of Professional Schools of International Affairs, the Seton Hall University School of Diplomacy and International Relations is a professional school offering graduate and undergraduate programs, online and in person. The school embraces Seton Hall's long tradition of a values-based education emphasizing servant leadership, seeking to make a substantive impact in solving global challenges. With a diverse student body and faculty, intimate class sizes, and an agile curriculum, diplomacy students are colleagues, working on collaborative research, policy, and field work and innovations alongside faculty. To learn more, please click here.
Categories: Nation and World