National Security Fellowship Students Selected to Present at Irregular Warfare Center Colloquium
Thursday, September 14th, 2023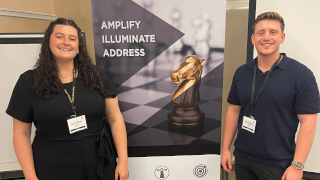 Graduate students, Joshua Smith and Anneliese Preske, traveled to Washington, D.C., to showcase their research on irregular warfare.
Two members of Seton Hall University's National Security Fellowship team were selected to present at the inaugural 2023 Irregular Warfare Center (IWC) University Colloquium. On July 27th and 28th, School of Diplomacy graduate students, Joshua Smith and Anneliese Preske, traveled to Washington, D.C., to showcase their research on irregular warfare. The IWC's University Colloquium brought together scholars, practitioners, and 16 students from 15 universities nationwide to exchange ideas and insights on irregular warfare. Hosted by the newly formed Irregular Warfare Center, this event serves as an excellent platform to delve into the latest advancements in the ever-evolving landscape of irregular warfare.
The scholars presented their research in 10-minute increments, then answered questions for a period of 40-minutes. Throughout the two-day event, the presentations ranged from cyber operations, information and influence operations, resistance movements and occupation, proxy warfare, strategic competition, and women, peace, and security. The IWC brought in Dr. Sean McFate, a national security expert and novelist, as the Colloquium's keynote speaker. He is a Senior Fellow at the Atlantic Council and a professor at Georgetown University's Walsh School of Foreign Service, Syracuse University's Maxwell School, and the National Defense University. Dr. McFate discussed U.S. national strategy trends and offered some projections for the near future. As an expert in mercenaries and the future of war, Dr. McFate provided key insights to the Colloquium participants.
Anneliese Preske drew on her multi-disciplinary background in liberal arts and political science to examine information and influence operations conducted by non-state actors. For the 2023 National Security Fellowship project, Anneliese examined strategic messaging and counter-narratives in Central Asia, solidifying her interest in irregular warfare. Anneliese discussed her research on how non-state actors exploit emerging technologies to execute information operations. The presentation, "Information Operations and Violent Extremism: Leveraging New Technologies to Promote U.S. National Security," aimed to identify methods to counter violent extremism and the proliferation of extremist ideologies.
Joshua Smith took to the stage on day two of the colloquium to present his research project titled "Chemical and Biological Weapons in Strategic Competition: Examining Their Impact Below the Threshold of War." This research focuses on recent advancements in modern technology and constraints placed by a dynamic geopolitical landscape. During the presentation, scholars and professionals weighed in on the subject matter, providing valuable insight on the relevance of STEM research in international relations and allowing for a robust conversation about fostering health and biosafety in the modern world. Using this feedback to refine his research project, Joshua seeks to help irregular warfare practitioners and policymakers better understand the complex threat these weapons may pose in the modern age.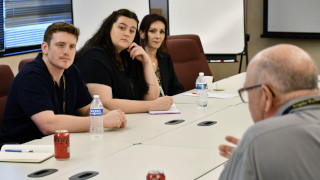 Joshua and Anneliese represented the School of Diplomacy as part of its National Security Fellowship team.
After their presentations, Anneliese and Joshua were assigned to a breakout room to discuss ways to enhance their projects. The breakout rooms consisted of both junior and senior scholars, separated by area of expertise. Anneliese received positive feedback on her use qualitative data and innovative operational solutions. Additionally, the senior scholars workshopped areas of her research and suggested analyzing malign foreign influence operations that target the U.S. The workshopping period was also beneficial to Joshua. He was commended for his thorough research of chemical and biological weapons, and asked to consider expanding the scope to include radiological weapons as well. The collaborative environment that the IWC Colloquium harnessed was beneficial for the pair of National Security Fellowship students.
The Seton Hall University's National Security Fellowship provides countless opportunities for students to gain professional and academic experience. Each year, the fellowship students undertake a research project, with guidance from Distinguished Scholar Mohamad Mirghahari. In recent years, the students have conducted research, support, and analysis on behalf of the Department of State, the Department of Defense, and the White House. In April 2023, the students presented their research to Special Operations Command Central at the Pentagon in Washington, D.C. Along with conducting their primary research for U.S. agencies, the National Security Fellowship students are connected with opportunities outside of the university, like the IWC University Colloquium.
Learn more about the National Security Fellowship here.