Monday, September 14, 2020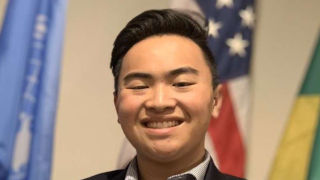 Diplomatic Envoy editor-in-chief Jarrett Dang said the murder of George Floyd was "a wakeup call to become an ally in the fight against racial injustice."
Recent events across the United States have been tumultuous, to say the least. The death of George Floyd sparked an uprising against deep-rooted racism and discrimination against Black Americans and renewed calls for racial justice. In the light of what has been happening, the School of Diplomacy stepped forward in support of the Black community, announcing it will in no way tolerate acts of racism and discrimination.
As part of its recently published 5th summer special edition, The Diplomatic Envoy, the official newspaper of the School of Diplomacy, released a Spotlight section highlighting the Black community at Seton Hall. The Spotlight consists of five pages dedicated to the voices of student leaders, organizations on campus, and faculty leaders who are making a difference in the fight for racial equity. Editor-in-Chief Jarrett Dang talked about his motivation for this summer's special section, saying:
"The murder of George Floyd was a wakeup call for me to become an ally in the fight against racial injustice, not just a bystander. The Spotlight section was the Envoy's way of using our platform to highlight people and organizations already doing great work on campus while raising awareness of issues that many may otherwise choose to ignore."
The Spotlight section includes a discussion with Rev. Dr. Forrest Pritchett, who sheds light on his journey fighting racial injustice in America. In another article, the Envoy sits down with Dr. Shawna Cooper-Gibson, Vice-President of Student Services, to discuss racial diversity and inclusion at Seton Hall.
Dang said he that he hopes the issue will inspire people to discuss racial justice concerns more openly. "I feel that it is increasingly impossible to ignore the realities of racial inequity in America. It is also my hope that this section can facilitate important conversations and help people understand perspective and struggle of the Black community, even if they may not agree."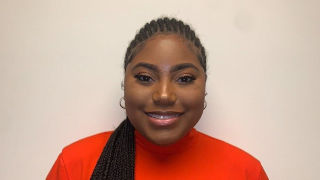 Guest editor Akaysha Palmer's poem "Dear Black Man" is featured in the Diplomatic Envoy's Spotlight section.
Akaysha Palmer, a junior Diplomacy major and guest editor for the edition, penned the poem "Dear Black Man," which is featured in the Spotlight. Palmer, who is the president of H.A.I.R. – Having Appreciation in Realness – believes the special issue raises awareness "about Black lives, about their struggles and their beauty." The movement, she adds, "is not just an American issue, but also a global issue." Palmer is interviewed about H.A.I.R. in the Spotlight
She also leads the new Black Diplomacy Student Organization. That group is an outgrowth of the School's Diversity, Equity, Inclusion and Justice Initiative, which is dedicated to further educating the Diplomacy community, improving the experience for Black students and alumni, and expanding its impact off campus.
When asked about what the Diplomatic Envoy could achieve by focusing on racial justice at this time, Palmer said:
"I hope this initiative helps the School of Diplomacy provide a safe space and platform for Black students beyond this movement being in the media. When the conversations start dying down, we must continue to engage in these discussions and educate ourselves. I further hope that this initiative, like many others, is just the beginning of continued change and awareness on this campus."
The Diplomatic Envoy's initiative is an acknowledgement of the realities of race and inequality that exist in our country and is also a recognition of the strength that lies in diversity and inclusivity.
About the Diplomatic Envoy:
The Diplomatic Envoy is the official foreign affairs newspaper at the School of Diplomacy and International Relations. The Envoy provides a unique platform for students to write about an array of international news that they are passionate about and equips writers with valuable writing skills. The Envoy is currently recruiting talented and driven writers who have a passion for international affairs and want to develop excellent skills. Reach out to Editor-in-Chief Jarret Dang for any inquiries on how to join the team. Or, let us know you're interested in joining the Envoy by filling out our interest form.
Categories: Arts and Culture , Nation and World