Wednesday, January 27, 2021
SHUNA participates in Collegiate Conference.
A delegation of 15 Seton Hall students attended the National Collegiate Security conference held by Georgetown University in January, bringing home a total of four awards. Attending one of the most challenging Model UN conferences in the country, Seton Hall United Nations Association (SHUNA)'s delegates demonstrated their capabilities in the areas of foreign policy, crisis and conflict management, security issues, and debate. SHUNA President, Stephen Hoffman, said of the wins, "SHUNA attended this conference two years ago and frankly struggled with the level of competition that we encountered, as we were unable to take any awards. To return and perform as well as we did indicates the growth of the team." SHUNA delegates proved themselves to be formidable opponents, debating some of the top schools in North America and winning against well-known Model UN programs from Harvard, George Washington University, and McGill University.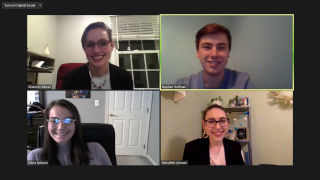 4 SHUNA award winners.
Due to the global pandemic, all usual Model UN operations ceased, requiring adaptability and resilience from the delegates as the conference moved to a virtual format. "Having missed Model UN conferences over the past year, it was nice having the experience of a conference again. I was able to step outside of my comfort zone and debate the topic of Brexit from the view of a parliamentary minority which was a new and unique experience," says Seton Hall delegate Shannon Moran, winner of the Outstanding Delegate award. Other awards taken home by SHUNA delegates include a Verbal Commendation Award by MaryBeth Ammari, an Honorable Mention by Stephen Hoffman, and the Best Delegate Award earned by Elena Soisson. The Seton Hall United Nations Association team is looking forward to their next Model UN conference hosted virtually by Emory University (MUNE). "This will be our second time competing at this conference, and after a strong showing last year, we hope to perform even better this year" says Hoffman. The MUNE Conference will provide SHUNA delegates with the opportunity to display their impressive skills and Seton Hall Pirate spirit.
Categories: Nation and World